Apple iPad 2: will you get it?
64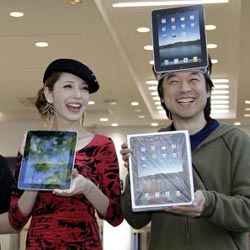 The iPad 2 is finally here and it'struly an iPad on steroids. It has now grown dual-core A5 musclecapable of delivering double the processing and nine times thegraphical punch. But tablet steroids are of a special kind andinstead of growing bigger, the iPad 2 has lost significant part ofits body fat and is now not only more lightweight at 1.33 pounds (601 grams) forthe Wi-Fi version, but it's also 33% slimmer than the original iPadand even slimmer than the iPhone 4.
While it might be the thinnest of alltablets out there, its powerful guts are by no means left unmatchedby the competition. The recently released Motorola XOOM and upcomingtablets like the Samsung Galaxy Tab 10.1 also come with dual-corebrains and probably even more RAM than the iPad. But could this makeup for the humble number of tablet-centric applications for Android Honeycomb? It'sup to you to decide, but before you vote with your dollar let us knowabout the most important thing for us - your opinion!