Apple kicked Verizon-owned Tumblr out from the App Store for child pornography
20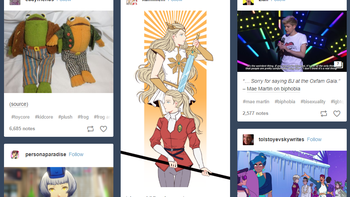 Tumblr once again cements its reputation as the go-to app for displaying alternative lifestyles when it became clear that
Apple has removed it from the App Store
after it found out that, amidst all the daily life of vaping tattooed models, somehow child pornography was getting through.
Pressing for a comment on the matter, the folks over at
Download
managed to get this statement from a Tumblr spokesperson on how those pictures managed to seep through the filtering cracks:
We're committed to helping build a safe online environment for all users, and we have a zero tolerance policy when it comes to media featuring child sexual exploitation and abuse. As this is an industry-wide problem, we work collaboratively with our industry peers and partners like [the National Center for Missing and Exploited Children] (NCMEC) to actively monitor content uploaded to the platform. Every image uploaded to Tumblr is scanned against an industry database of known child sexual abuse material, and images that are detected never reach the platform. A routine audit discovered content on our platform that had not yet been included in the industry database. We immediately removed this content. Content safeguards are a challenging aspect of operating scaled platforms. We're continuously assessing further steps we can take to improve and there is no higher priority for our team.
Given that law enforcement has been involved, the removal from the App Store may have been mandated to Apple and the only update from Tumblr's support site so far is that they are working to restore the app for iOS users.
In the meantime, the app continues to be available on other platforms, though, so make of it what you will. As a reminder, Tumblr is now part of the Oath media conglomerate that has Verizon as a parent company, so the ball is in its court, it seems.