Apple: Here are the top ten reasons we rejected an app last week
30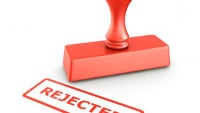 No one likes getting rejected, especially developers who think that they have come up with a million dollar idea, only to see Apple knock it down. But Apple does have legitimate reasons for rejecting an app, and the tech giant has just revealed the top ten such reasons on its Developer web site. The list includes the top ten reasons for the week that ended last Thursday.
14% of the rejected apps were sent back due to lack of information. And that is the number one reason why Apple turned away developers for that week. Make sure that your application is filled out completely with all of the pertinent information included. In second place, accounting for 8% of rejections, were apps that failed to pass guideline 2.2. In other words, apps sent in to Apple must be free of bugs.
Tied for third, accounting for 6% of rejected apps, are those that are sent to Apple with a user interface that is "complex or less than very good." Remember, Apple has a reputation it must live up to. One common mistake made by developers, was to name their app with a title that has nothing to do with their listing. This mistake also accounts for 6% of rejections. Screenshots presented for the App Store listing also must be relevant to the app. Apple will also reject an app with "beta", "demo", "trial" or "test" in the title. 58% of the apps rejected were turned down for a reason in the top ten. 42% of the apps rejected were turned down for a reason outside of the top ten.
You can check out all of the top ten reasons why Apple rejected an app for the week through last Thursday, by checking out the list below. Better luck next time!
source:
Apple
via
Engadget