Apple-1 in working condition up for bid in auction; price expected to hit over $300,000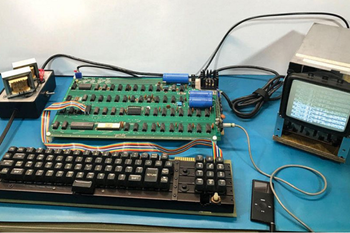 The Apple iPhone is Apple's most important product. Even as Apple tries to grow services revenue, the company remains heavily dependent on sales of its iconic smartphone. 42 years ago, when Apple first started, its most important product was its very first. That would be the Apple-1 computer, 200 of which were produced. It is estimated that 60 units still remain.
Next month, a restored, operational Apple-1 will go up for bids at RR Auction. It is estimated that the device, including the Apple-1 board, a keyboard, monitor and the original user manual, will sell for more than $300,000. A complete list of the lot includes:
Original Apple-1 board.
Original Apple Cassette Interface (ACI).
Original Apple-1 Operation Manual.
Two original Apple Cassette Interface manuals.
A period surplus ASCII keyboard.
A period 'open frame' Sanyo 4205 video monitor.
A new period-style power supply with original Apple-1 power cable and connector.
Period cassette interface cables.
This particular Apple-1 recently was tested and ran for over eight hours without any issues.
The auction starts with pre-live bidding from September 13th to September 24th, with the live bidding taking place on September 25th. If you want to own a unique conversation piece, click on the sourcelink below.