Angry Birds Seasons updated right in time for Halloween
2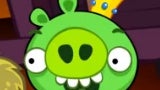 Right in time for Halloween, Rovio has refreshed its smashing hit Angry Birds Seasons. The Haunted Hogs update, available on both Android and iOS, adds 30 new challenging levels to the game, as well as a handful of additional features.
Among them are the new ghost bricks, which don't act exactly like the blocks you're probably used to. The game's creators say they will allow you to
perform fancy trick shots
, but you'll have to play the game in order to get an idea as to how the new bricks behave. There are also new kinds of pigs for you to hurl avians at, including the creepy Frankenswine. The setting has also been altered so the action now takes place in a spooky haunted house, and new audio tracks have been introduced to match the game's theme.
So in case you are interested in wasting a few more hours with Angry Birds, download the Halloween update from the respective link below. And while your game is downloading, feel free to watch the promotional video that Rovio just posted.
Download Angry Birds Seasons for Android
Download Angry Birds Seasons for iPhone
via
Android Guys