Alcatel unveils One Touch Scribe series: 5-inch phones with a stylus for the masses
17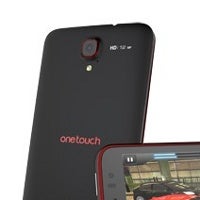 Alcatel has just dropped its well-timed CES bomb with a handful of new devices, but the most exciting ones for phone lovers are the three new phones in the Alcatel Scribe series: the Alcatel One Touch Scribe HD, Alcatel One Touch Scribe X and Alcatel One Touch Scribe HD-LTE.
All are 5-inch devices touching the border between a phone and tablet, all are based on Android 4.1.x and all have an optional capacitive stylus. And from there on, the differences begin.
First, the
Alcatel One Touch (OT) Scribe HD
, the device opening the series has a 720 x 1,280-
pixel 5
-inch screen, and is powered by a quad-core 1.2GHz MediaTek 6589 chip.
The phone is designed to be an alternative to the stylus-equipped Samsung Galaxy Note, but at a much cheaper price, somewhere around $400 off contract. The Alcatel One Touch Scribe release date is set for a much later time in the year, though, somewhere in Q3 2013.
The Alcatel OT Scribe HD will feature an 8-megapixel rear camera, a front shooter, 4 gigs of internal storage expandable via microSD cards, and a fairly large 2,500mAh battery. The device comes with a flip cover to protect that big screen.
Alcatel One Touch Scribe X
is the top of the line model, with a 1080p display, a snappier 1.4GHz quad-core processor and a 12-megapixel rear camera.
Finally, the
Alcatel One Touch Scribe HD-LTE
will be a 4G LTE model similar to the previous one, but aimed at those markets with a developed 4G infrastructure.
source: Alcatel
Images courtesy of Engadget.com.

ALCATEL ONE TOUCH Announces LTE and 1080P Editions to ONE TOUCH Scribe

Smartphone Series at 2013 Consumer Electronics Show

Las Vegas, Nevada (Consumer Electronic Show) – January 8, 2013 – TCL
Communication, designer and manufacturer of ALCATEL ONE TOUCH branded mobile
devices, announced today the latest devices in their ONE TOUCH Scribe smartphone
series, the ONE TOUCH Scribe X and the ONE TOUCH Scribe HD-LTE. The devices will be
shown for the first time at this year's Consumer Electronics Show.
The ONE TOUCH SCRIBE series was designed to enable people to express themselves
in a new way, offering a perfect balance between slim design, large display, outstanding
performance, and rich user experience.

The ONE TOUCH Scribe X provides a truly enhanced user experience with a 5" full HD
1080p display screen for impressively rich graphics and a 12MP camera for crystal
clear photography. Together with a 720p HD front camera, a 1.4GHz quad-core CPU, the
feature-rich device will come loaded with a full set of creative features and accessories
that will enable users to create movies, edit photos and connect wirelessly to their TV's
to extended the device's entertainment capabilities.

The ONE TOUCH ScribeHD-LTE is perfect for users seeking a faster mobile experience
for both work and play. The device provides high-speed data performance with no
compromise to its stunning and slim form factor. Sacrificing nothing in functionality
and incorporating the breakthrough speeds of an LTE connection, the device offers
a unique combination of creativity and connectivity, allowing users to manage their
multifaceted lives like never before.

For 20 years, the ALCATEL brand has brought global innovation and quality in mobile
telephony to the widest-range of audiences. The ONE TOUCH smartphone product line
leverages on that expertise, bringing unique products, priced to be accessible to all.
"The ALCATEL ONE TOUCH brand prides itself on the commitment to bring consumers
innovation and quality in mobile technology, at a great price," said Dan Dery,
Chief Marketing Officer. "The ONE TOUCH Scribe series truly showcases this value
proposition offering a very broad selection of options to consumers: 4G, LTE, and a
version with a more advanced feature set. All of which are offered with a full eco-
system of accessories (pens, Wifi Display dongles for wireless connection to TV and a
large catalog of Magic-Flips)."