Alcatel OneTouch POP7 and POP8 entry-level tablets are announced
1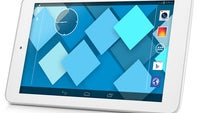 Alcatel is on a roll today – not much of a surprise with CES right around the corner. Along with its newest phones, the company just announced a couple of budget-friendly tablets powered by Android 4.2 Jelly Bean. Introducing the Alcatel OneTouch POP7 and OneTouch POP8 – the first Alcatel slates ever to join the
"fun and colorful"
POP series.
The Alcatel OneTouch POP7 is the more humble device of the two. Its specs won't impress anyone who's familiar with today's slates, but on the other hand, the tablet should be very reasonably priced. As the name implies, the OneTouch POP7 is a 7-inch tablet with a TFT screen offering a resolution of 1024 by 600 pixels. Under the hood you'll find a dual-core MediaTek MT8312 chip running at 1.3GHz backed by 1GB of RAM. There's also a 0.3MP front-facing camera and a 2MP snapper on the back. 4GB of storage have been built in with the option to have them expanded with a microSD card. Along with Wi-Fi and GPS you may enjoy having 3G connectivity and the optional IR blaster. The POP7 weighs 285 grams and can be complemented with a colorful flip cover or protective case.
The slightly more capable Alcatel OneTouch POP8 comes with an 8-inch 1280 by 800 pixel IPS display and a quad-core MT8382 chip clocked at 1.3GHz. Like its little brother, it offers 2MP main and 0.3MP rear cameras, 4GB of expandable storage, 1GB of RAM, Wi-Fi, GPS, 3G, and an optional IR blaster. Also, protective flip covers and cases of various colors will be offered for the device.
Alcatel is aiming to launch the OneTouch POP7 tablet on the market by the end of February 2014. The 8-inch OneTouch POP8 should arrive later, before March of 2014 is out. Pricing has not been disclosed, but we're expecting for both tablets to be priced fairly and marketed as cheaper alternatives to brand-name, entry-level Android tablets. Their 3G connectivity is also among the factors that might attract more than a few budget-conscious buyers.
source: Alcatel
Tablets go POP with color at CES 2014
ALCATEL ONETOUCH POP 7 and POP 8 bring the fun and colourful DNA of POP series of smartphones to tablets
(Consumer Electronics Show) Las Vegas, Nevada, January 6, 2014:
ALCATEL ONETOUCH today took the fun and colourful styling of the POP series up a size with the launch of the POP 7 and POP 8 tablets.
Adding tablets to the POP series of smartphones is the first example of the company's vision to offer a complete range of device options across the three unique product series including POP, IDOL and HERO. The POP 7 and POP 8 apply the POP series' design approach of being fun, feature-packed but easy-to-use, customizable and offering a wide range of colourful accessories.
"The POP 7 and POP 8 are great first steps in our product alignment for smartphones and tablets. The unique characteristics of the POP series are fun and colourful and offering a smart but simple user experience, said Dan Dery, Chief Marketing Officer for ALCATEL ONETOUCH. "There's much more to come as we implement this product strategy across our range of devices."
The POP 7 and POP 8 bring colourful and useful accessories to consumers at a smart price. The new tablets are the latest example of ALCATEL ONETOUCH's research, development and design capabilities and product alignment.
POP 7 features include:
7" TFT WSVGA display
Dual-core 1.3GHz
2 Mpxl rear camera
VGA front camera
8.9mm thin, 285 grams
POP 8 features include:
8'' IPS 1280 x 800 display
Quad-core 1.3GHz
2 Mpxl rear camera
VGA front camera
7.9mm thin, 325 grams