Alas, Froyo update for the Samsung Vibrant is available through Kies mini
6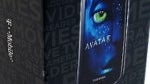 You say that you can't stand through the grueling process of waiting to see that notification hit your
Samsung Vibrant about the Android 2.2 Froyo update
? Well, there's an alternative process that's available which will transform your Android 2.1 powered Vibrant to Android 2.2.
Not everyone might not be comfortable in pursuing this alternative process, but it appears that the update is available through
Samsung's some times wobbly Kies mini software
. Granted that they provide
step-by-step instructions
on installing the update, some people may still be put off having to do some manual work in getting their handset up to par with Froyo. But if you feel up to a challenge, you can follow the directions and find your smartphone finally up to the levels of some newer devices on the market.
However, it's worth noting that there is no 64-bit Windows or Mac support at this time.
source:
Samsung
&
Mobileburn