Ajax editions of the Samsung Galaxy S & Apollo are headed to the Netherlands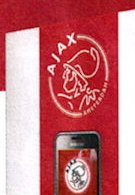 Fans of the Ajax Amsterdam can really show off their love for the team by purchasing either two special editions handset that pay homage to the popular football team in Europe.
Samsung is issuing two special versions of their Android powered smartphones in the Netherlands – the Samsung Galaxy S and Galaxy Apollo. Aside from being able to experience all of the wonders that these Android powered devices have to offer, they also include special pre-loaded content that relate to Ajax Amsterdam – such as wallpapers, ringtones, and videos.
In addition, you can easily see how the packaging tastefully shows off the love for the popular team, however, the handsets themselves don't offer anything special in terms of specs – in fact, they're pretty much the same except for the new pre-loaded content. If this happens to be something you're serious about buying, you'll need to know that it can only be purchased in the Netherlands.
Both handsets actually are bundled together with mobile subscriptions that are being referred to as Mobile Ajax, which starts at €19.95 per month and offers voice, data, and access to Ajax-related content.
Samsung Galaxy S Specifications
|
Review
Samsung Galaxy Apollo Specifications
via
Unwired View