AT&T setting its eyes on October to be the first to launch the Samsung Galaxy Tab?
2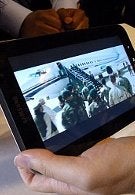 AT&T isn't looking to sit pretty after it was announced that
all four major domestic carriers would be getting the Samsung Galaxy Tab
in time for the holidays.
It's rumored that AT&T is planning to be the first to launch their variant some time in mid-October as it'll be the perfect moment to get a jump start over the competition. Additionally, it looks as though Verizon would be releasing their version some time in early November with Sprint not too far behind with a mid-November launch. Finally, it's also speculated that T-Mobile would be the last to launch the Galaxy Tab – although there was no mention about a time frame, it'll nonetheless be here in time for the holidays.
To say the least, it's interesting to find AT&T so adamant in getting the Galaxy Tab out first – even more when they still profit from iPad sales. Still, there is no word yet on pricing which is at this point the one million dollar question left unanswered. We'll just have to wait and see what the carrier's have in store for us all in regards to actual launch dates and pricing.
via
Electronista