7-inch Samsung Galaxy W to be launched soon, 16:9 screen aspect ratio included
31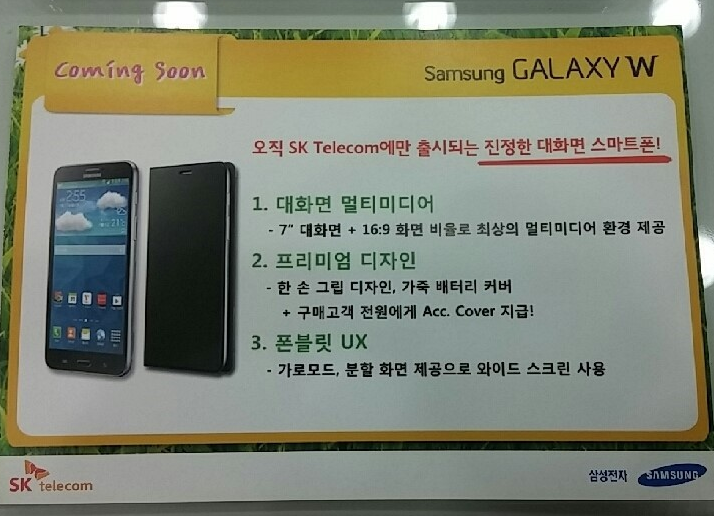 The
Samsung SM-T2558
that we showed you last month hasn't been announced yet, but it seems that it might be officially presented in South Korea soon. A Korean website recently published a promo image that shows the device, while revealing that it's supposed to be called Samsung Galaxy W (at least at SK Telecom). Way back in 2011, Samsung released a 3.7-inch smartphone that was also called
Galaxy W
, so the name choice is a bit odd.
Anyway, the new Galaxy W has nothing to do with the old one. It's a tablet that looks like a giant smartphone - because its 7-inch 720p screen has a 16:9 aspect ratio. The promo image - seen above - reveals that Samsung will offer a flip case cover for the new Galaxy W. The unusual tablet reportedly features a quad-core 1.2GHz processor, 8MP rear camera with Flash, 1.5GB of RAM, and support for microSD cards. It definitely runs Android, though we can't know what version will be on board at launch.
Since the SM-T2558 was initially spotted in China, it's probably safe to assume that Samsung doesn't intend to commercialize it only in its home country (South Korea). But let's better wait for an official announcement before making further assumptions.