5 great wallet cases for the Samsung Galaxy S6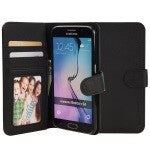 Looking for a wallet case to go with your Galaxy S6? Here are five pretty nice options that look good, don't break the bank, and do exactly what a decent wallet case ought to do - protect your smartphone, personal documents, cash and memorabilia from the dangers of daily life. The Galaxy S6 easily lends itself to such a type of case, as it is a reasonably big phone that sits well inside a wallet. If you don't mind using two hands to operate the handset at practically all times and like the look and feel of a thick wallet (now, who doesn't?) in your bag or pocket, these cases should be exactly what you're looking for. Wallet cases are a smart purchase.
As usual, you can click or tap on the links in blue, which will take you straight to Amazon. Happy shopping!