5 billion mobile subscriptions number breached last week, says Ericsson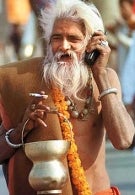 Ericsson,whose silicon is in more than a half of all cell phones today,estimated that last Thursday a milestone was reached. There arecurrently at least 5 billion mobile lines operating globally,according to Ericsson's industry calculations. Most of the increasecomes from emerging markets, especially China with its 800mln mobileusers, and India's 620mln.
Cable broadbandInternet is not well established in developing countries, so mobilebroadband will take its place to reach the estimated 3.4bln users inthe next five years. Yes, that means mobile device manufacturers aregrinning with delight this very moment.
For countries wheremobile users have peaked, the increase will be coming from theever-growing number of connected devices. Soda machines, smartmeters, truck fleets – you name it – they will all add up to theprojected 50bln connected devices by 2015.