Samsung Galaxy Z Fold Tab: news, rumors, expectations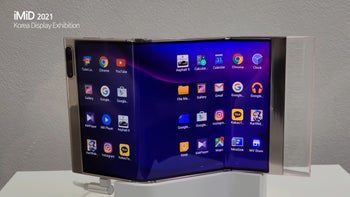 We've seen proof that
Samsung is working on a foldable Galaxy Z Fold tablet
, a tri-fold one, likely to be similar in design to the Korean giant's
Galaxy Z Fold 3
smartphone.
As exciting as a Galaxy Z Fold tablet sounds, the information we currently have on it is stingy, but enough to give us an idea of what to expect from
Samsung
's next-gen device, if it ever comes to market. Below are our speculations, as well as leaks and rumors we've collected about the Galaxy Z Fold Tab (name unconfirmed).
Samsung Galaxy Z Fold Tab release date and price speculations
A Galaxy Z Fold tablet used to be
rumored for release in early 2022
, but that didn't happen. As of 2023, the amount of talk of such a device from leakers has lessened, so our speculations for its release at all are starting to be doubtful.
In regards to pricing, we can once again only speculate at the moment, but it seems plausible that a Galaxy Z Fold tablet could cost well over $1,000. For reference, the Galaxy Z Fold 4 foldable phone costs $1,799, so a higher price than that is almost certain, considering the Z Fold Tab will be even larger and with an additional display folding point. On the upside, Samsung's phones, earbuds, smartwatches and tablets often get discounted, which may be the case with a Z Fold Tab too, if such a product ever gets released in the first place.
Samsung Galaxy Z Fold Tab leaks and rumors
Samsung Galaxy Z Fold Tab design and display speculations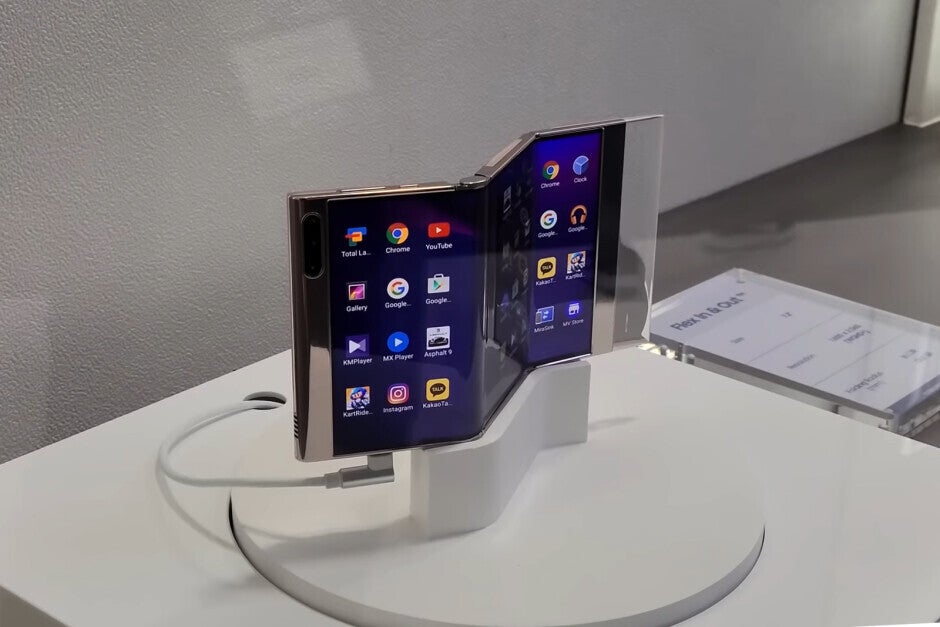 We speculate that a Galaxy Z Fold tablet will be similar in design to the Z Fold 4 smartphone, but instead of folding in the middle, it will actually have two folding points. In addition, it could offer a larger, widescreen experience when fully unfolded.
In late August of 2021
Samsung unveiled a triple-folding display prototype
, which might eventually become the Galaxy Z Fold Tab. It's seemingly a fully working Android device with a 7.2-inch OLED display, and looks to be widescreen, as opposed to the Galaxy Z Fold smartphone's square-ish shape. However, Samsung chose to call this prototype the "Flex In & Out" as opposed to the Galaxy Z Fold Tab, so we're yet to know for certain if this really is an early version of the folding tablet we're expecting.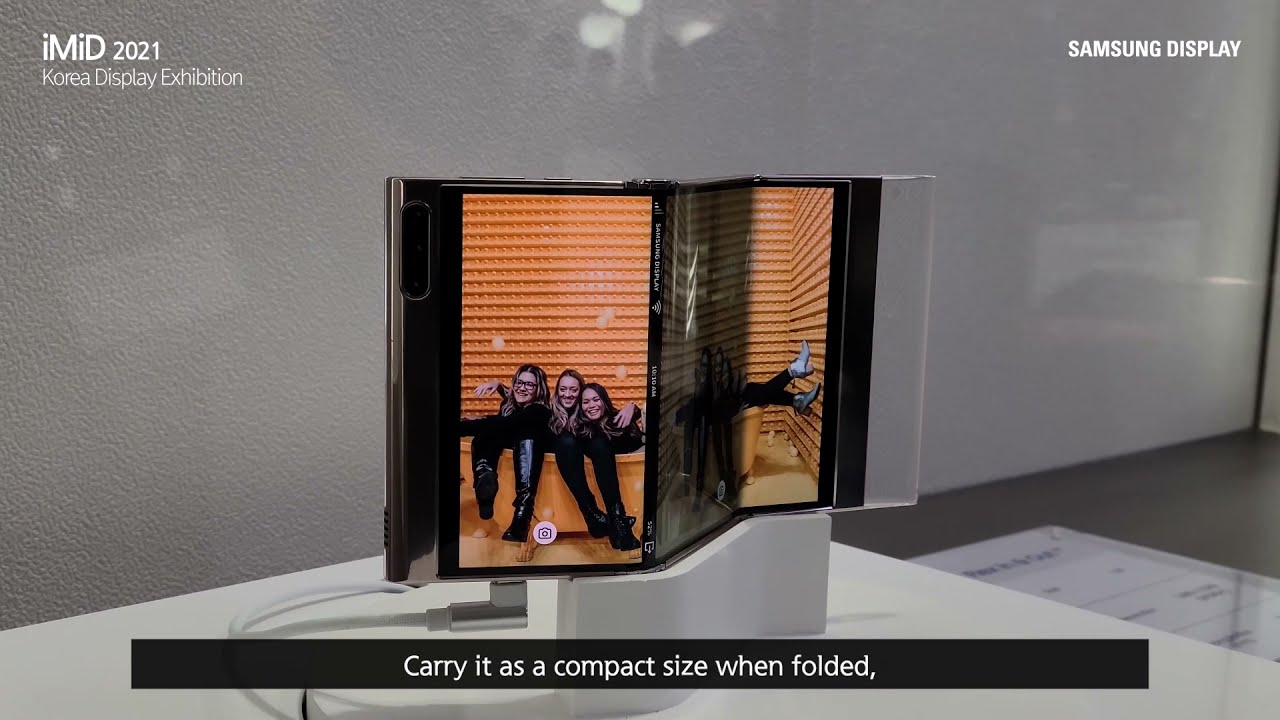 The Galaxy Z Fold Tab's body will likely be made out of metal, with the display covered with ultra-thin glass, following the design of the Z Fold 3. The following images from a Samsung patent spotted by
LetsGoDigital
give us a good idea of what to expect for the final product.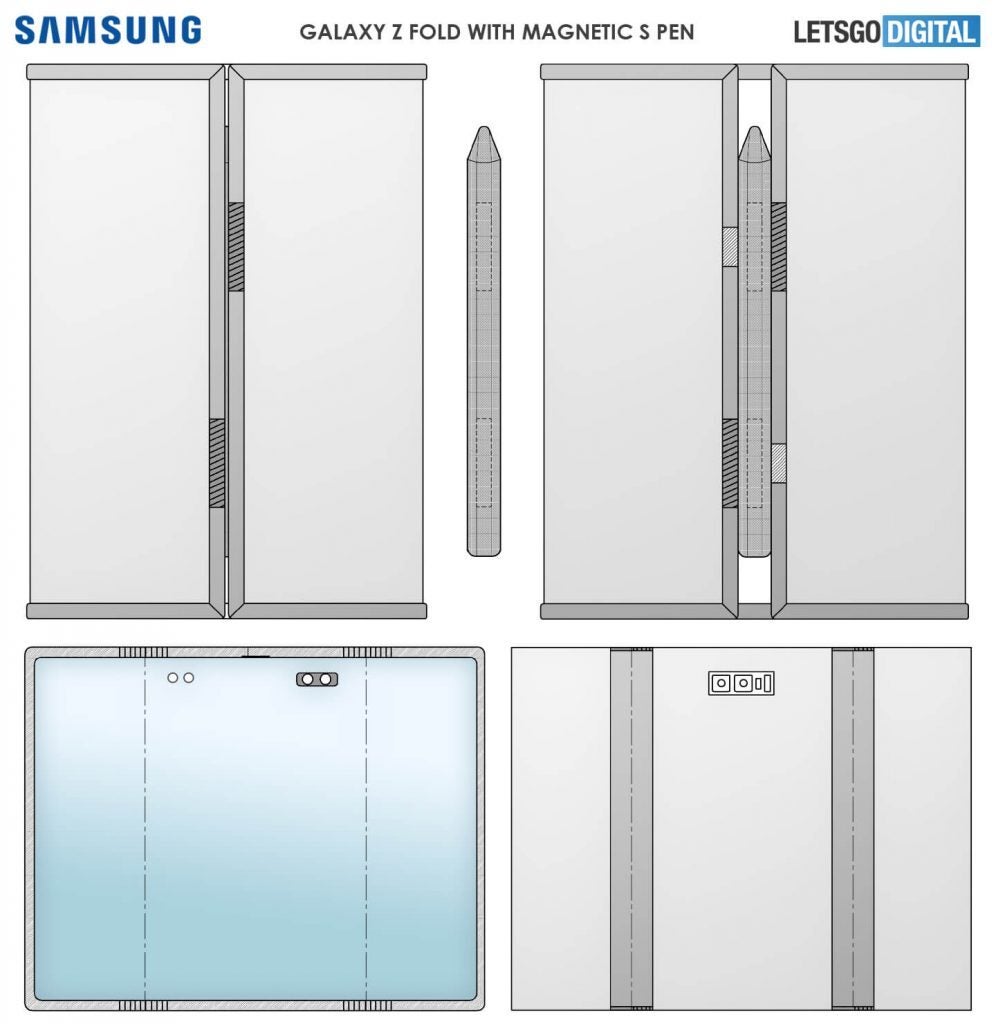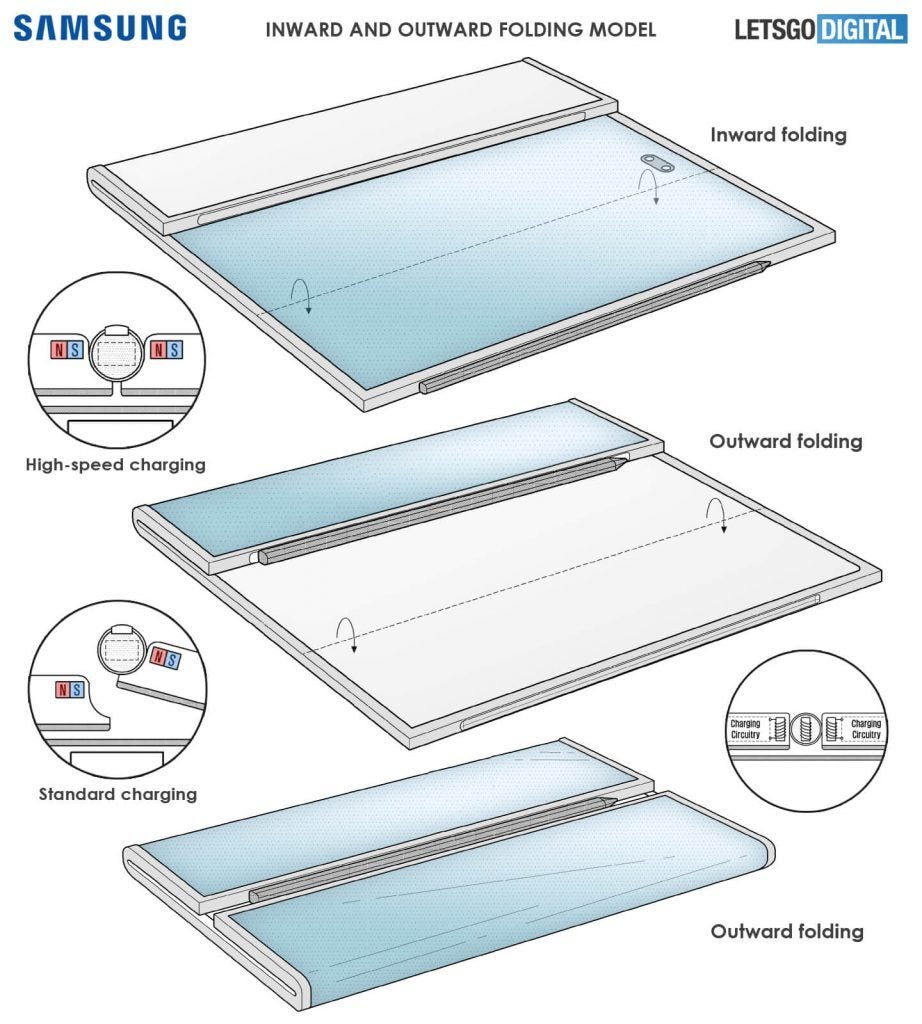 As we can see from the images, the Samsung patent, which the company applied for in September of 2020, shows the company's vision of a tri-fold tablet that can fold both inward and outward, and has a spot for an S Pen stylus.
The S Pen is envisioned to magnetically snap to a dedicated spot between the Galaxy Z Fold Tab's folded screen edges. And similarly to the Apple Pencil magnetically docking and wirelessly charging on an
iPad Pro
, the S Pen will charge while docked.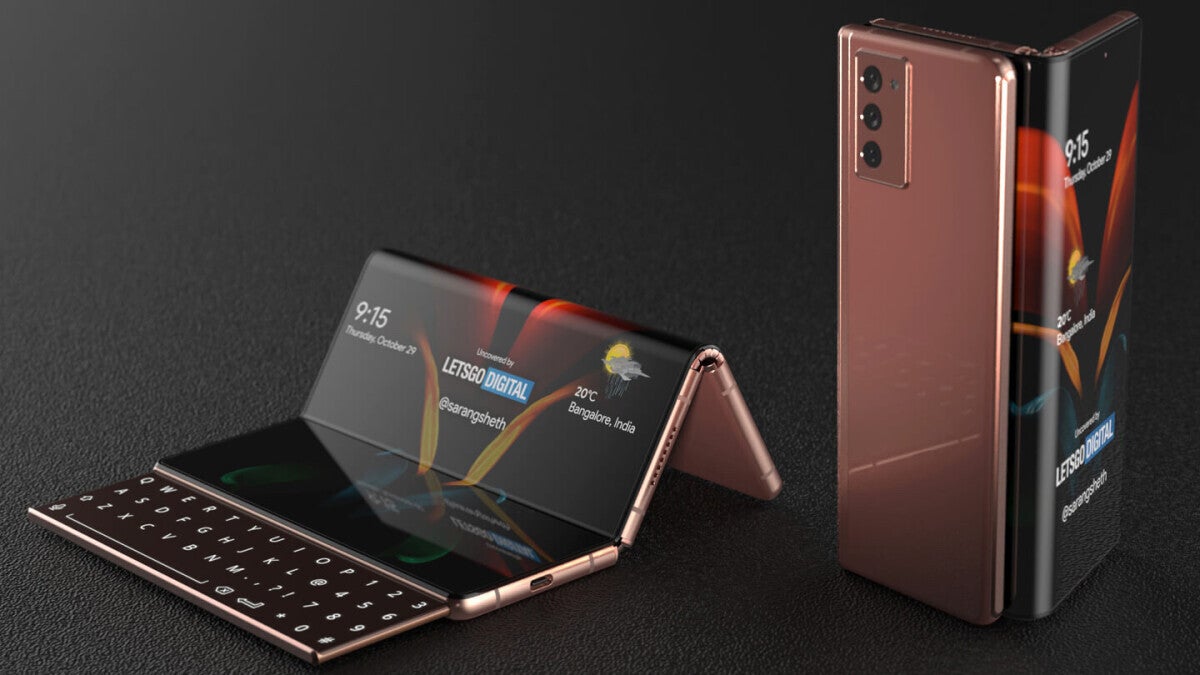 Patent-based renders like the one above also show the Galaxy Z Fold tablet with a keyboard, but we're yet to know if an addition like that will make it to the first generation of this tablet, and whether it will be a part of it or sold separately.
Samsung Galaxy Z Fold Tab camera speculations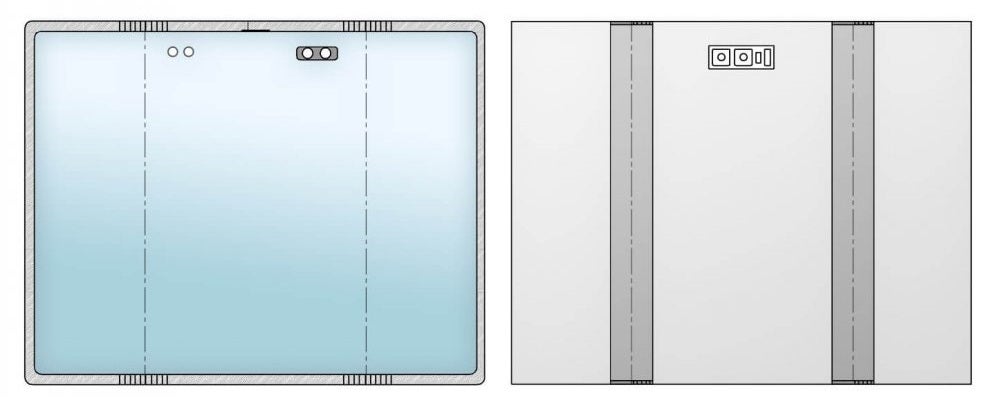 Although the above-mentioned patent might not be showing us the final product, we can see from it that Samsung has been, or still is planning a dual camera module on the back of the Z Fold Tab, with one camera presumably being ultra-wide. There's also a visible LED flash in the main camera module.
The tri-fold tablet will also seemingly sport dual punch-hole selfie cameras, but the reasoning for this is currently up for speculation. In addition, we see two extra cutouts that are likely for proximity and light sensors.
Both the main camera module and the front cameras are part of the central piece of the tablet, as opposed to being attached to one of its two folding parts.
Samsung Galaxy Z Fold Tab software speculations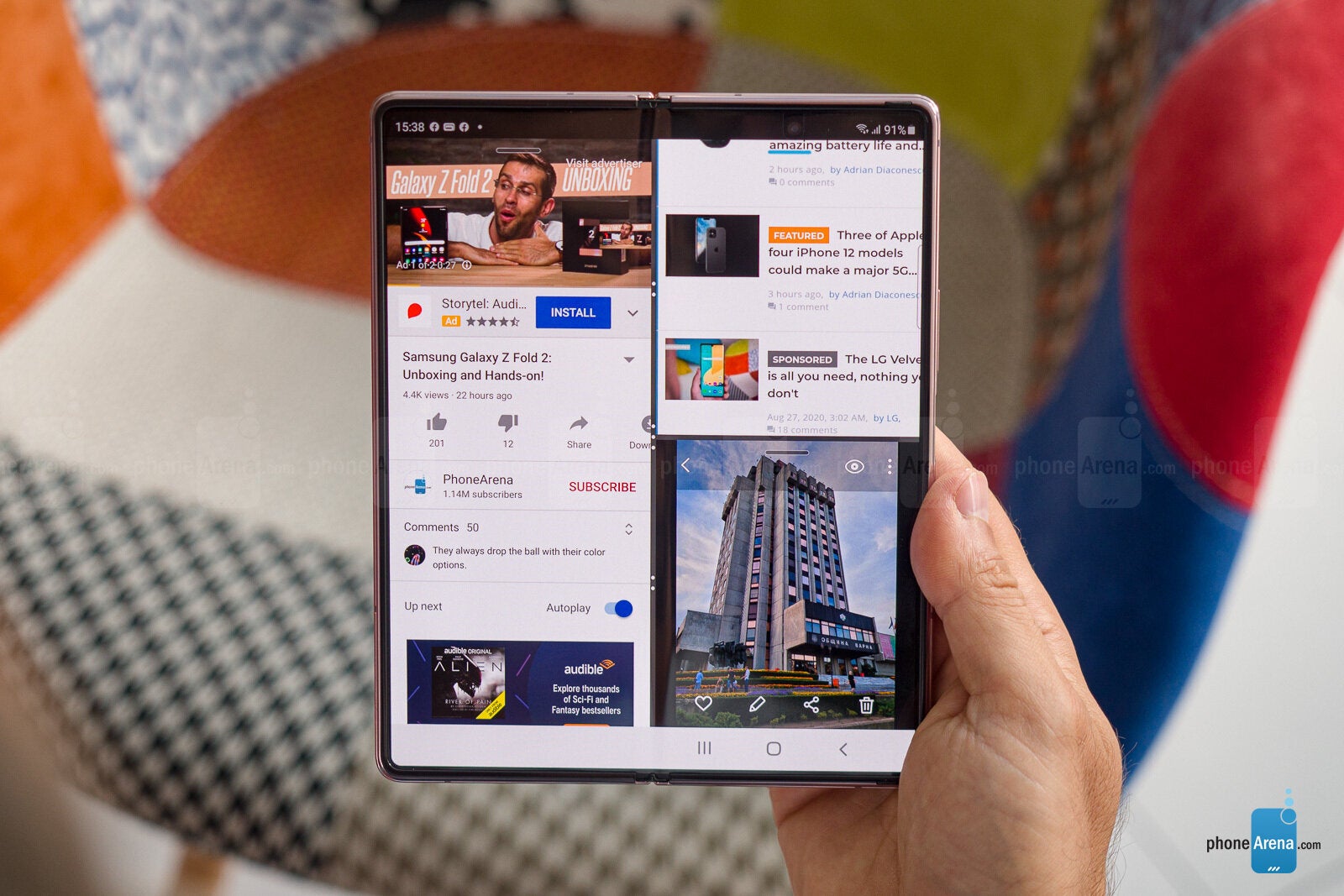 OneUI multitasking on the Samsung Galaxy Z Fold 2 5G folding smartphone
Like the Galaxy Z Fold 2, the Z Fold Tab is almost certainly going to be running Android, with Samsung's OneUI on top. OneUI currently allows for greater multitasking than even the iPad, with 3 apps able to share the screen at once. Additional apps can be open in windowed mode for more serious multi-tasking.
Speaking of which, the Galaxy Z Fold Tab will almost certainly also come with Samsung Dex support, meaning it will be able to transform its interface from a traditional Android tablet one to a desktop-like one, with a taskbar and windowed apps by default. Thus power users will be able to take full advantage of the tri-fold Z Fold Tab by using it like a computer. Such users will be able to use a keyboard and mouse with it too, and if needed, even attach the foldable tablet to a bigger display.
Samsung's OneUI also has a good set of built-in apps specifically for the S Pen stylus, with which the Galaxy Z Fold tablet will seemingly be compatible with. Those apps include a Notes app and a shortcut for taking a screenshot and handwriting over it.