iPhone 13 Pro Max vs iPhone 11 Pro Max
16
We may earn a commission if you make a purchase from the links on this page.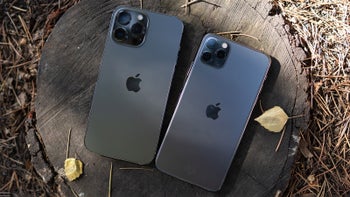 If you happen to own an iPhone 11 Pro Max and are feeling like getting an upgrade, your best choice is — naturally — the iPhone 13 Pro Max. Is it worth taking the plunge? Well, let's take a look at what — and how much — has been improved! The iPhone 13 Pro Max brings a slew of new features, among which the two most notable ones are a ProMotion display for smoother scrolling, and perhaps most impressively, a boost in battery life over the already long-lasting iPhone 11 Pro Max. Of course, you also get new, upgraded cameras with larger sensors that can capture more light, as well as a couple of truly "Pro" features like ProRaw photos and ProRes video recording.
iPhone 13 Pro Max pros and cons
iPhone 11 Pro Max pros and cons
In this article, we look at all of these in greater detail: the design differences between the two iPhones, the advantages of the newer Apple A15 processor, everything new around the cameras and finally, the actual battery life numbers.
iPhone 13 Pro Max vs iPhone 11 Pro Max differences in a nutshell:
New design with flat edges on iPhone 13 Pro Max
iPhone 13 Pro Max is quite a bit heavier
Larger screen at 6.7" vs 6.5" on older model
120Hz ProMotion, HDR support, higher brightness on newer model
Apple A15 vs Apple A13
128GB base storage (vs 64GB on 11 Pro Max)
Triple camera system on both, but new and larger sensors on 13 Pro Max
ProRaw and ProRes support only on newer model
Bigger battery size, slightly faster charging, MagSafe support
New color options
Check out more iPhone 13 reviews:
Finally with 120Hz ProMotion!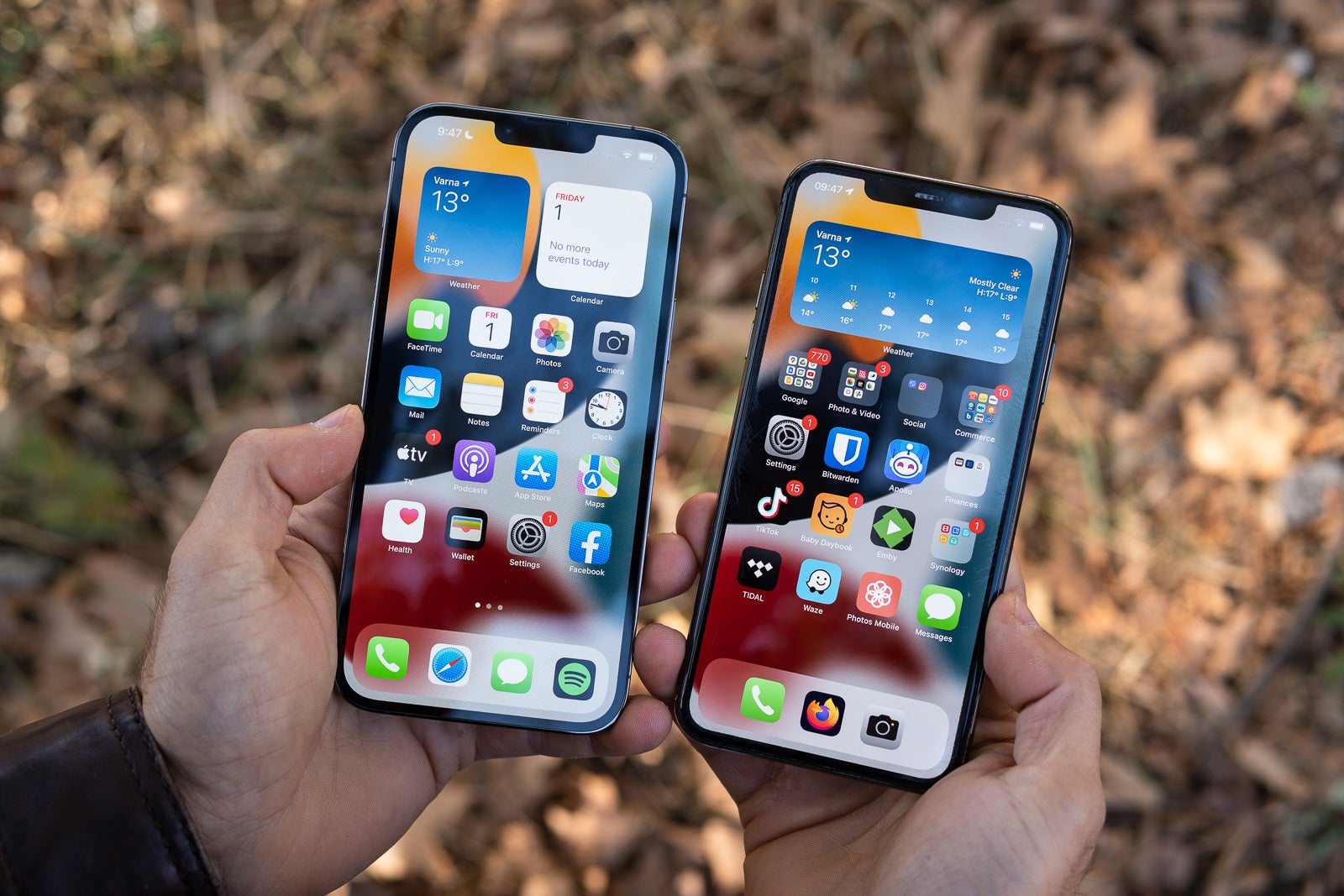 If you are using an iPhone 11 Pro Max, you will immediately notice that the iPhone 13 Pro Max is a bigger, heavier and overall chunkier phone. The 13 Pro Max features this new boxy styling with flat edges compared to the curved edges on the 11 Pro Max. The flat sides look great on the newer phone, but they do also make the phone a bit harder to grip, especially if you have a smaller hand, and we actually find the 11 Pro Max a bit more comfortable to grip.
In terms of display quality, the iPhone 13 Pro Max features a slightly larger screen: a 6.7-inch one vs 6.5 inches on the 11 Pro Max, but both use the same OLED technology for similarly vibrant colors and both have about the same resolution, and they look plenty sharp. You could also notice that the newer model comes with a smaller notch (20% smaller if we have to be precise), which is great.
The iPhone 13 Pro Max also has a higher peak brightness (1,000 nits peak vs 800 nits on the 11 Pro Max) for more comfortable outdoor use. The newer model also brings one really exciting upgrade: 120Hz ProMotion for super smooth scrolling! Apple has optimized iOS and the screen automatically varies from 10Hz with static content to 120Hz when you need those smooth scrolling speeds. Take a look at our display measurements for both phones below:
Display measurements and quality
Finally, we have different
colors on the 13 Pro Max
: the fancy new one is called Sierra Blue and is a light shade of blue, plus you also have Graphite, Silver, and Gold, while the older 11 Pro Max comes in Midnight Green, Silver, Space Gray and Gold. Both phones come with a frosted glass on the back, which are better than glossy glass at resisting fingerprints.
Will this be the biggest upgrade to iPhone battery life?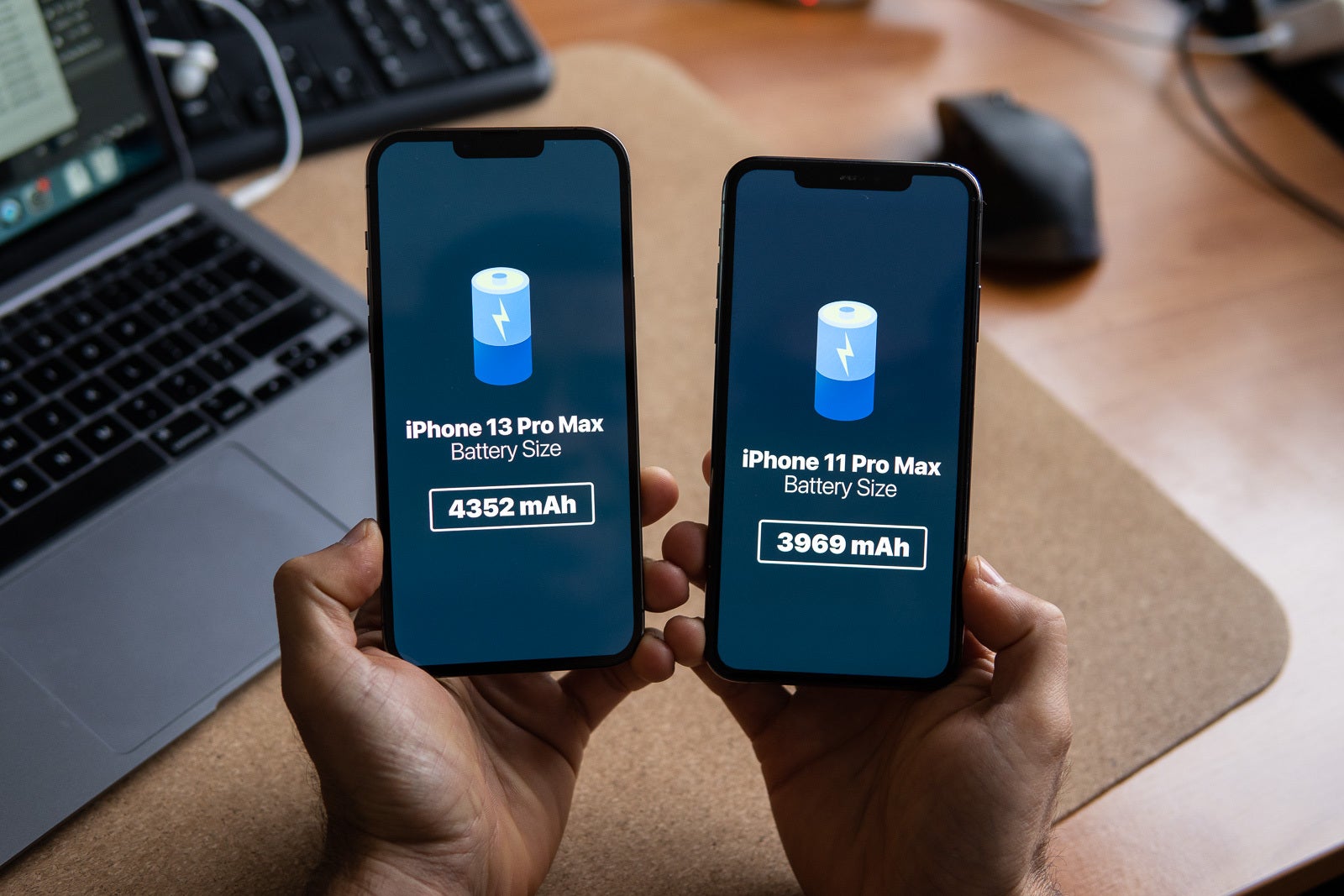 Coming from an iPhone 11 Pro Max, you are probably already used to great battery life. When it launched, the
iPhone 11 Pro Max wowed us with a big battery
and long battery life, but the iPhone 13 Pro Max takes things further. A lot further.
Apple does not specify the exact battery capacity for its iPhones, but teardowns reveal that the iPhone 13 Pro Max features a 4,352mAh battery cell vs 3,969mAh cell in the iPhone 11 Pro Max. That's a difference of
nearly 10% in favor of the newer model
.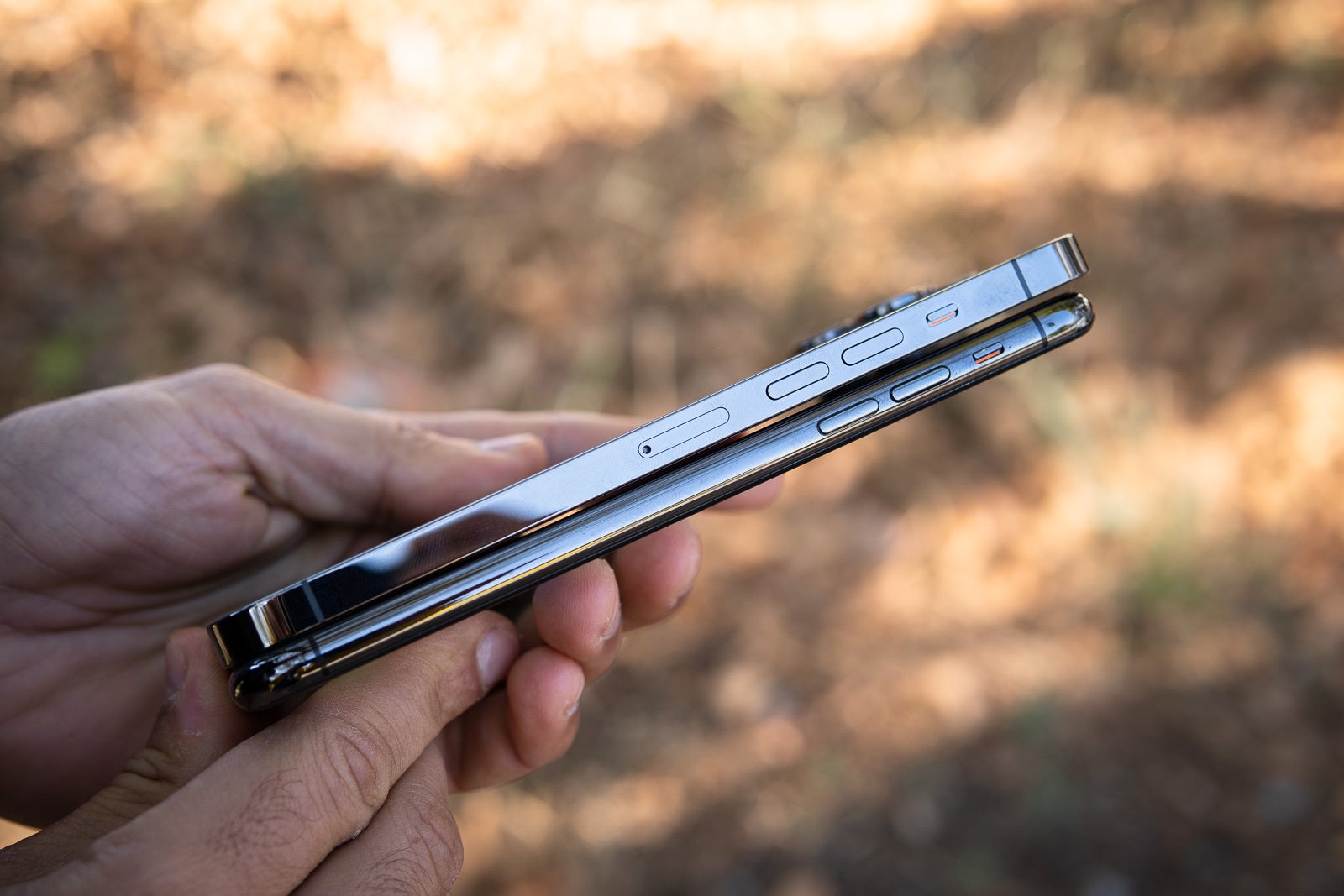 But we don't have to rely just on the size. Apple is actually giving us some official battery estimates, and this is where things get crazy. Apple says the iPhone 13 Pro Max can stream videos for up to 25 hours straight, compared to just 12 hours on the 11 Pro Max, which is yes, twice as long! For videos you have on your device the delta is not that big, the 13 Pro Max can play back 28 hours straight compared to 20 hours on the 11 Pro Max. Still, those are some pretty big improvements, and we couldn't wait to test them out ourselves. So take a look at our our independent
PhoneArena battery test results
below:
These are some very notable changes! Especially in the browsing test, we see that the iPhone 13 Pro Max delivers nearly 19 hours, while the 11 Pro Max manages to squeeze about 13 hours, so that's a nearly 50% improvement! Interestingly, in YouTube video streaming, the difference was quite small, but we again had a bigger difference in our gaming test where the newer Pro Max scored 10 hours and a half vs 7 hours and a half on the 11 Pro Max.
With average use, the iPhone 13 Pro Max is easily a 2-day phone, and that's quite the achievement.
On the charger front, iPhone 11 Pro Max users are in for a bit of a disappointment as a charger is no longer included in the box. Plan on spending an additional $20 bucks for an Apple fast charger. Unfortunately, even this "fast charger" maxes out at about 20W charging speeds, which is not all that fast by modern standards.
At least that is what the theory said, but we also tested the 13 Pro Max with a faster charger (we had a 45W Samsung fast charger lying around). We noticed that it actually quietly accepts higher speeds to the tune of nearly 27W. In our testing, using such a faster charger took 1 hour and 40 minute to fully charge, compared to nearly 2 hours on the traditional 20W charger.
Both phones also support wireless charing, but the 13 Pro Max adds MagSafe, so you can snap the phone tightly to the charger via magnets and get a higher, 15W charging speed.
Cameras
Still three cameras on the back, but upgraded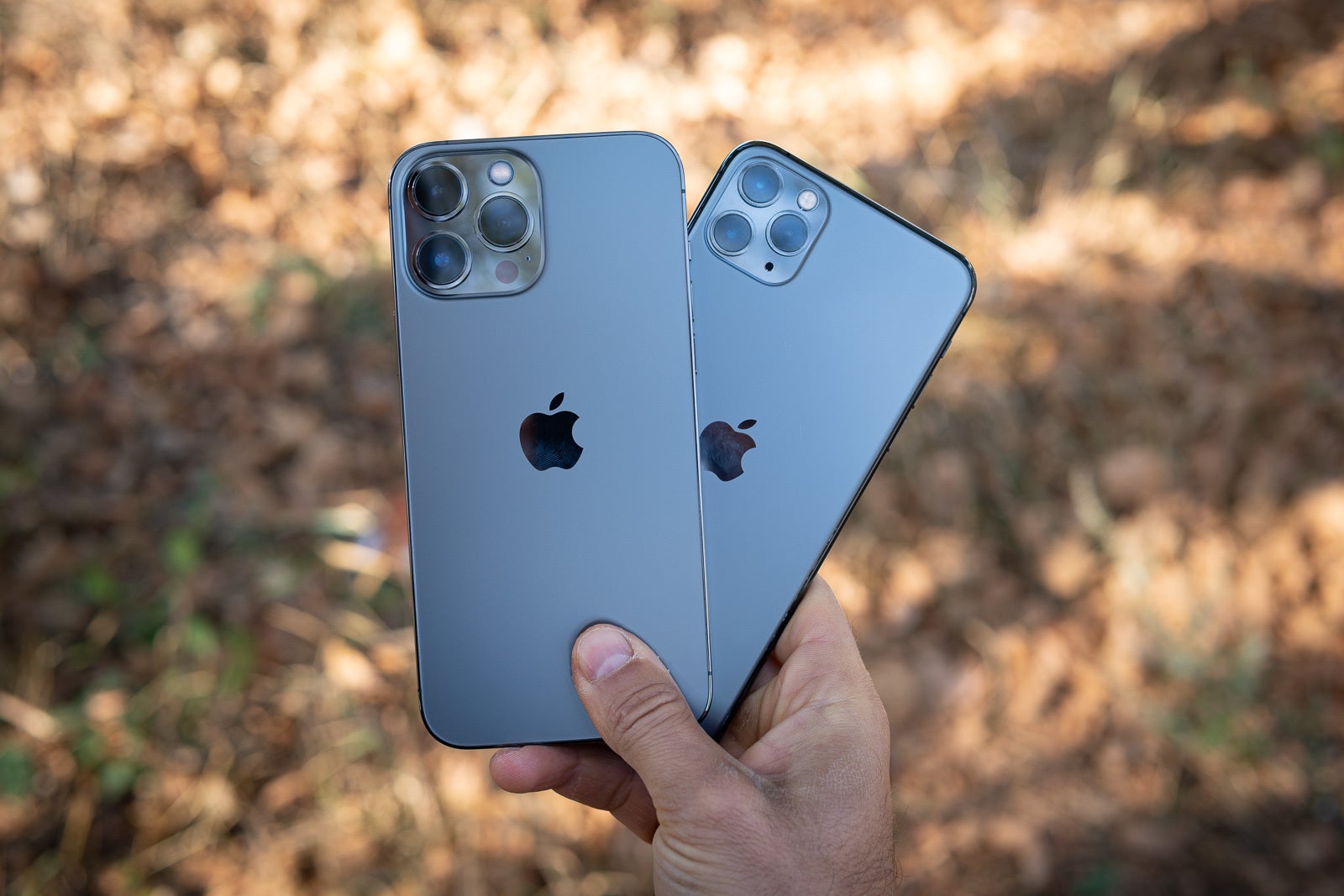 The iPhone 11 Pro Max launched with new camera features like Night Mode, and the iPhone 13 Pro Max takes things further with bigger sensors and faster apertures.
On the back, you will still have three cameras: a main, an ultra-wide and a slightly longer zoom lens (3X zoom on iPhone 13 Pro Max vs 2X zoom on iPhone 11 Pro Max).
Here are the differences in camera hardware:
Wide camera — 26mm, f/1.5 aperture on 13 Pro Max vs f/1.8 aperture on 11 Pro Max, 1.9µm vs 1.4µm pixel size
Ultra-wide camera — 0.5X, 13mm, f/1.8 aperture vs f/2.4 aperture
Telephoto camera — 3X zoom vs 2X zoom on 11 Pro Max, f/2.8 aperture on 13 Pro Max vs f/2.0 aperture
In simple words, the wider aperture on the main camera and its new capabilities allow the 13 Pro Max to capture a lot more light.
Low light photography test:
< iPhone 13 Pro Max
iPhone 11 Pro Max >
It's interesting that Apple has changed the processing with Night Mode that kicks in for shorter periods of times (the 13 Pro Max often took just 1 second to capture a night photo vs 3 seconds on the 11 Pro Max), and the picture you get is a bit darker with a more genuine, "night" feel. We kind of dig that more balanced look and looking closer you will also notice the sharper detail and improved dynamic range.
< iPhone 13 Pro Max ultrawide
iPhone 11 Pro Max ultrawide >
There is a giant void between the ultrawide cameras when it comes to low light performance simply because the 11 Pro Max does not support night mode for that lens, while the newer 13 Pro Max does. And what a difference that makes as the resulting photo from the older phone will go directly in the trash folder, while the 13 Pro Max actually looks quite nice despite the super dim conditions in the room.
As for other new camera features, the 13 series bring a new feature called
Photographic Styles
. This is basically photo filers on steroids: you can do local edits in real time and you can see the results right in the camera viewfinder. You can pick a more vibrant look, or a more subdued look... just select your personal style, and you can have the iPhone remember that personal preference and later use it across all your photos.

You can now also capture macro mode photos on the 13 Pro Max at a distance as close as just 2cm for incredible close-ups. This same feature applies for video too where you can record macro video.
On the video side, you get the new
Cinematic Mode
which allows you to blur the background, lock and track focus, plus it can automatically change the focus to accent the moment something note-worthy happens in the video.
The iPhone 13 Pro Max also features a LiDAR scanner that is missing on the 11 Pro Max. It is used for AR and for Night Mode Portraits, but we wouldn't say it's the most popular camera feature out there.
Performance: Apple A15 vs A13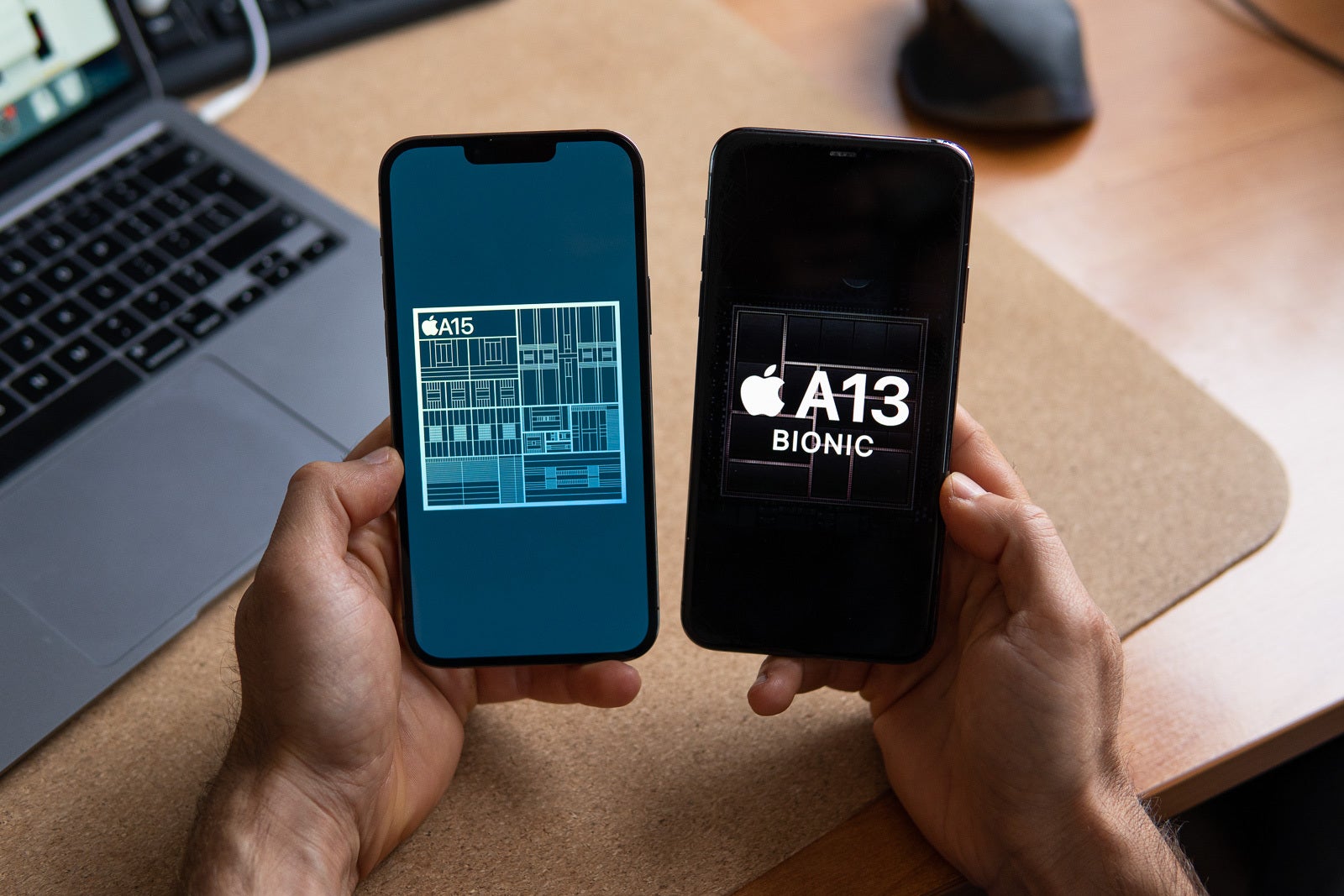 Back when the iPhone 11 Pro Max launched, it was the fastest phone on the market, and Apple has only been extending its lead in chip performance. The new Apple A15 Bionic chip inside the iPhone 13 Pro Max should bring improvements in CPU, GPU and AI performance, plus camera ISP improvements.
Below, you'd find benchmarks that showcase the performance of 13 Pro Max with its A15 chip vs the 11 Pro Max and its A13 processor.
Performance Benchmarks
The A15 is built on a 5nm technology compared to 7nm tech used for the A13, and it has nearly double the amount of transistors: 15 billion on the A15 vs 8.5 billion on the A13. The speed gains are definitely noticeable in benchmarks.
What you see above are the results from the 3D Mark Wildlife Extreme Stress test, which shows what you can expect in terms of gaming performance. While other tests only measure the initial performance, this test basically runs a graphically intensive 3D game for 20 minutes straight and shows whether the GPU throttles after the first few minutes, a much more realistic scenario. You can see that 2 years of time have allowed for big gains in graphics performance and the newer iPhone maintains far higher frame rates and is the ultimate gaming machine at the time of its release.
An important upgrade of the iPhone 13 Pro Max comes in connectivity as it has 5G support with a ton of bands, while the 11 Pro Max only has 4G LTE connectivity.
iPhone 13 Pro Max vs iPhone 11 Pro Max: Specs Comparison
And here is a detailed specs comparison between the iPhone 13 Pro Max and iPhone 11 Pro Max.


iPhone 13 Pro Max
iPhone 11 Pro Max
Size and Weight
160.8 x 78.1 x 7.65 mm, 240g
160.84 x 78.09 x 7.39 mm, 228g (8oz)
Display
6.7" OLED, 120Hz Pro Motion
1284 x 2778 pixels
6.5" OLED @60Hz
1242 x 2688 pixels
Processor
Apple A15 Bionic
Apple A13 Bionic
RAM
*6GB
*4GB
Storage
128G / 256G / 512GB / 1TB, non expandable
64GB / 256G / 512GB, non expandable
Cameras
12MP wide camera, f/1.5, 1.9-micron pixels
12MP ultra-wide camera with faster, f/1.8 aperture
12MP 3X zoom camera
12MP wide camera, f/1.8, 1.4-micron pixels
12MP ultra-wide camera, f/2.4
12MP 2X zoom camera
Battery size
4,352mAh
25 hours of video streaming
3,969mAh
12 hours of video streaming
Charging speeds
20W wired, 15W MagSafe wireless
18W wired, 7.5W wireless
Prices
starting from $1,100
after iPhone 13 launch, iPhone 11 Pro Max is no longer available at Apple.com (but will remain on sale at carriers)

Apple is not changing the pricing with the 13 Pro Max and the base version of it still starts at $1,100, just like the previous generations. As for the iPhone 11 Pro Max, it is no longer available at Apple.com, but you can still purchase it at some carriers at discounted prices.
So... do you think Apple has done enough for iPhone 11 Pro Max users to convince them to switch to the beefier and newer iPhone 13 Pro Max? And what more would you want in this Pro Max-sized iPhone? Let us know in the comments below!
Conclusion: Is it time to upgrade to the iPhone 13 Pro Max?
Of course, it all depends on how you feel about the features and differences we've covered here. If you're still happy with your iPhone 11 Pro Max even in 2022 and still see no reason to upgrade - that's completely okay! Your phone will continue receiving updates for years, so no worries there, and if the battery is still holding up just fine 3 years later - great!
However, if you're looking for reasons to upgrade - we can't overlook the newer cameras and camera features, the even better battery life, larger display, snappier processor and faster charging of the iPhone 13 Pro Max. As we covered, it even comes with double the base storage, so you can fit more of your apps, photos and videos. And design-wise, the newer iPhone 13 Pro Max has that beautiful flat-edge body, switching to which is a nice way to freshen things up, if you've grown tired of the old curved-edge iPhone design.