The iPhone 11 Pro Max has the best battery life of any iPhone ever
27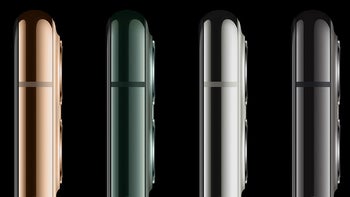 Tucked in an electronics industry
report
about the supplier of batteries for the upcoming
iPhone XR
sequel we found the actual capacity of the packs in the
iPhone 11
trio. At the time, the source mused that Apple may be done with hardware and iOS optimizations, and seems to be now betting on larger battery packs to make its phones last longer on a charge, just like Samsung or Huawei are doing.
Well, Apple just got off stage announcing that the iPhone 11, Pro and Max indeed have battery life estimates that is an hour longer than the already record hours of the XR, and at the same time, at $699, it is cheaper than the XR at launch. This makes it the best deal iPhone to get if you are not in for a zoom camera or higher display resolutions.
The iPhone 11 Pro, however, comes with a battery that lasts four hours more than the XS, while the 11 Pro Max is five hours ahead of the XS Max, making it the longest-lasting iPhone ever. At $1000+ starting price, it better be.

The iPhone 11 battery pack orders were reportedly granted to China's ATL (Amperex) which are the same guys that got the order for
non-exploding Galaxy Note 7 packs
after the infamous
Samsung SDI batteries
started catching on fire. The new battery capacity is said to be 3110 mAh, which makes the iPhone XR's successor with the largest single-cell battery pack in an iPhone ever.
While this is just a 5% increase over the 2942 mAh capacity in the iPhone XR, the 11 is also coming with Apple's A13 processor made with a
second generation 7nm process
that reduces battery draw further. The iPhone 11 Pro and Max, at 3174 mAh and 3650 mAh, respectively, are the largest total capacities, which shows in Apple's stats below.

With the new packs, coupled with the frugal Apple A13, the iPhone 11 trio lasts longer on a charge than the already best in that regard iPhone XR. That last one scored more than 11 hours of screen-on time in our grueling test, ahead of any iPhone we have tested so far. The gang of 11 may very well break the 14-hour mark which would place it in a special endurance club of its own, and not only among phones in the iOS camp.