iPhone 13 vs iPhone 11: Should you upgrade?
We may earn a commission if you make a purchase from the links on this page.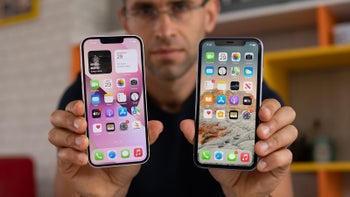 The iPhone 11 in 2023 is sold at a sub $500 price and seems like a great budget option, but should you really get it or should you spend a bit more to get the newer and more powerful
iPhone 13
?
The
iPhone 13
is a big change over the iPhone 11. It sports a completely new look, but you also get a number of improvements under the hood. The
iPhone 13
gets an OLED screen, a big upgrade over the LCD screen on the iPhone 11, it has a faster processor, upgraded cameras and longer battery life. The
iPhone 13
is also considerably lighter and we'd say prettier.
But the iPhone 11 is no slouch either, so let's look at the...
iPhone 13

vs iPhone 11 differences in a nutshell:
iPhone 13

has flat-edge design with smaller borders and smaller notch

iPhone 13

has OLED screen vs LCD on iPhone 11
Only

iPhone 13

has HDR support
Brighter screen on

iPhone 13

Faster chip
128GB vs 64GB base storage
Upgraded dual camera system on

iPhone 13

Longer battery life on

iPhone 13

iPhone 13

has MagSafe, while iPhone 11 only has regular wireless charging
Display and Design
6.1" OLED screen on iPhone 13 is a big upgrade, even if it doesn't have 120Hz ProMotion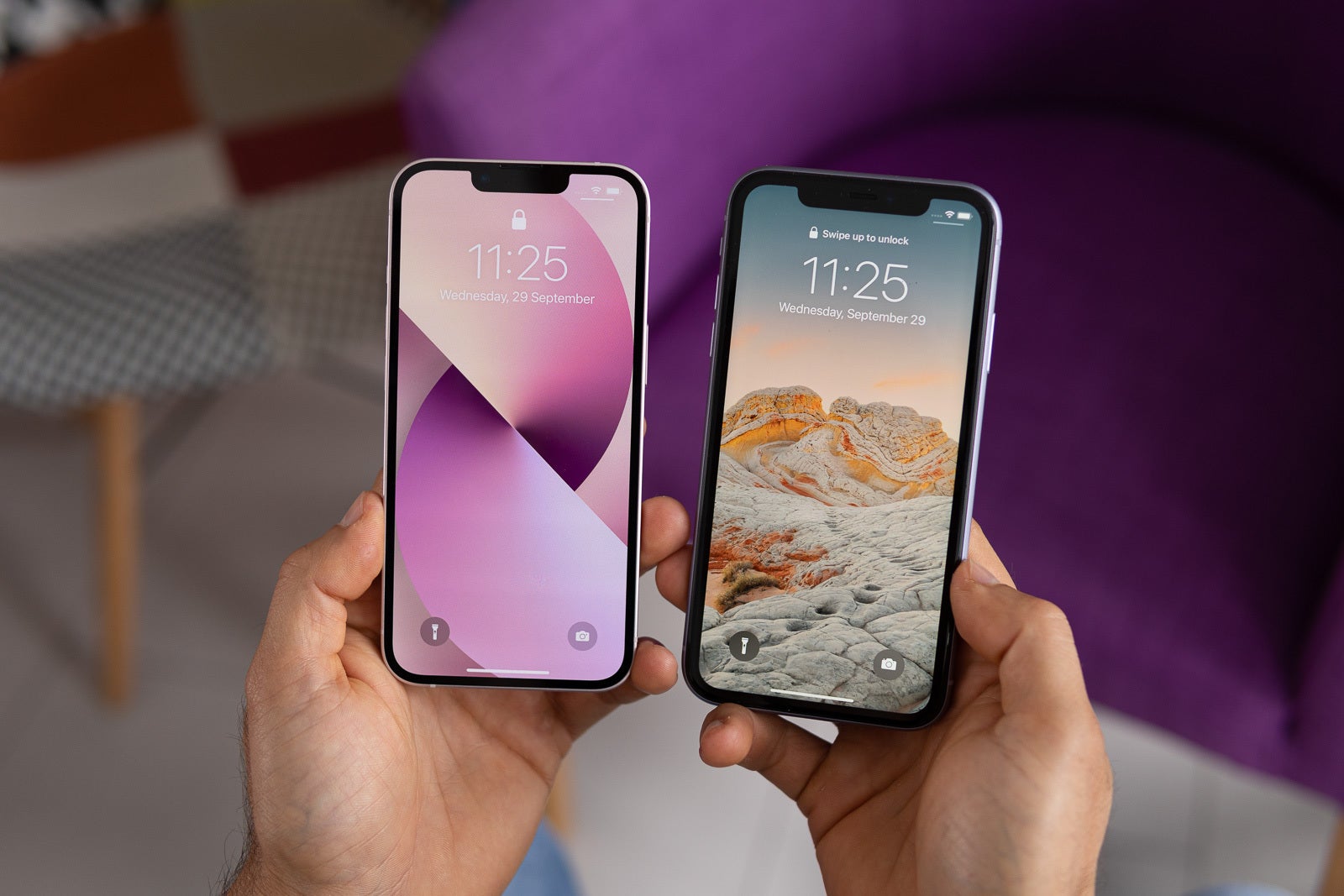 Thanks to smaller bezels and a new design, the
iPhone 13
is more compact while still featuring the same 6.1" screen size as the iPhone 11. See, the iPhone 11 is extra wide because of the thicker borders around the screen, which add width and make it hard to grasp with one hand.
And here are the exact dimensions of the two phones:
iPhone 13

— 146.7 x 71.5 x 7.65mm, 174g
iPhone 11 — 150.9 x 75.7 x 8.3 mm, 194g
Notice how the 11 is wider, thicker, and actually weighs quite a bit more too. Despite that, many of us find the flat edges on the
iPhone 13
actually make it harder to grip firmly, while the older design with rounded sides is more ergonomic.
Both the
iPhone 13
and iPhone 11 have a glossy back and use aluminum for the mid-frame. The colors are different though: you have a new pink option on the
iPhone 13
, in addition to the other 4 more standard color versions that are Midnight (black-ish), Starlight (silver-ish), Blue and Product RED.
While the two phones differ in their looks, they are about the same in terms of practicality with an IP68 water protection on both (
iPhone 13
can be submerged up to 6 meters deep compared to 2 meters for the iPhone 11), so no need to worry about them getting wet in the rain.
While both phones have the same 6.1-inch screen size, the
iPhone 13
uses an OLED display with deeper blacks and superior contrast compared to the older LCD type screen on the iPhone 11, where blacks appear washed out and colors don't look quite as lively, plus you get a ghosting effect while scrolling. In addition to that, the
iPhone 13
also has a higher resolution at 1170p compared to just 828p on the iPhone 11, another visible difference.
Last but not least, the display on the newer iPhone also supports HDR, which really makes videos you record or Netflix movies come to life, while you don't have that on the iPhone 11.
One modern feature that is missing on both, however, is a fast refresh rate. Unfortunately, the newer
iPhone 13
still runs at 60Hz, just like the iPhone 11. Apple has reserved the super smooth 120Hz ProMotion screens for its iPhone Pro series that cost quite a bit more.
Cameras
Upgraded dual camera setup
The camera system looks different on the
iPhone 13
with the lenses arranged diagonally rather than a straight line, but the cameras remain two, a wide and an ultra-wide one.
Here are the camera specs and the differences in hardware:
wide camera — 12MP on both, 26mm, f/1.6 aperture on 13 vs f/1.8 on 11
ultra-wide camera — 12MP, 0.5X on both, f/2.4 aperture on both
Despite the similarities, Apple is using a larger sensor for the main camera (the cameras are offset like that to accommodate for the larger sensor), and both cameras on the 13 are able to capture more light and do better in low light conditions. The
iPhone 13
also gets sensor shift stabilization for the main camera, a more advanced solution compared to the lens-based OIS on the iPhone 11. In reality, though, there is hardly any difference and video stabilization is about the same, which is to say great.
We should also mention that the iPhone 11 was among the first to receive the Night Mode feature, but it only works with the main camera, while on the
iPhone 13
it works with both cameras.
In terms of new camera features, the 13 brings
Photographic Styles
, which is basically photo filers on steroids. You can do local edits in real time and you can see the results right in the camera viewfinder. You can also create a favorite look, be it with more vibrant colors, or subdued tonalities... just select your personal style, and you can have the iPhone remember that personal preference and later use it across all your photos.
On the video side, you also get
Cinematic Mode
which can automatically rack focus for an artistic effect. This definitely looks a bit rough, especially if you record at the default settings, but we have found that if you set it at F/7, you can still get a pleasingly blurred background with very few artifacts.
Sound quality
While both the
iPhone 13
and iPhone 11 lack a headphone jack, there is a notable difference in the way the two sound when you are using the built-in loudspeakers.
The
iPhone 13
is boomy and surprises with an ample sound that you don't expect out of a phone speaker. The iPhone 11, on the other hand, is just decent, and doesn't quite have the same punch and clarity. If you like to listen to music straight out of your phone, or just watch a lot of videos or play games without headphones, the
iPhone 13
is a noticeable upgrade in terms of sound quality.
Performance: Apple A15 vs A13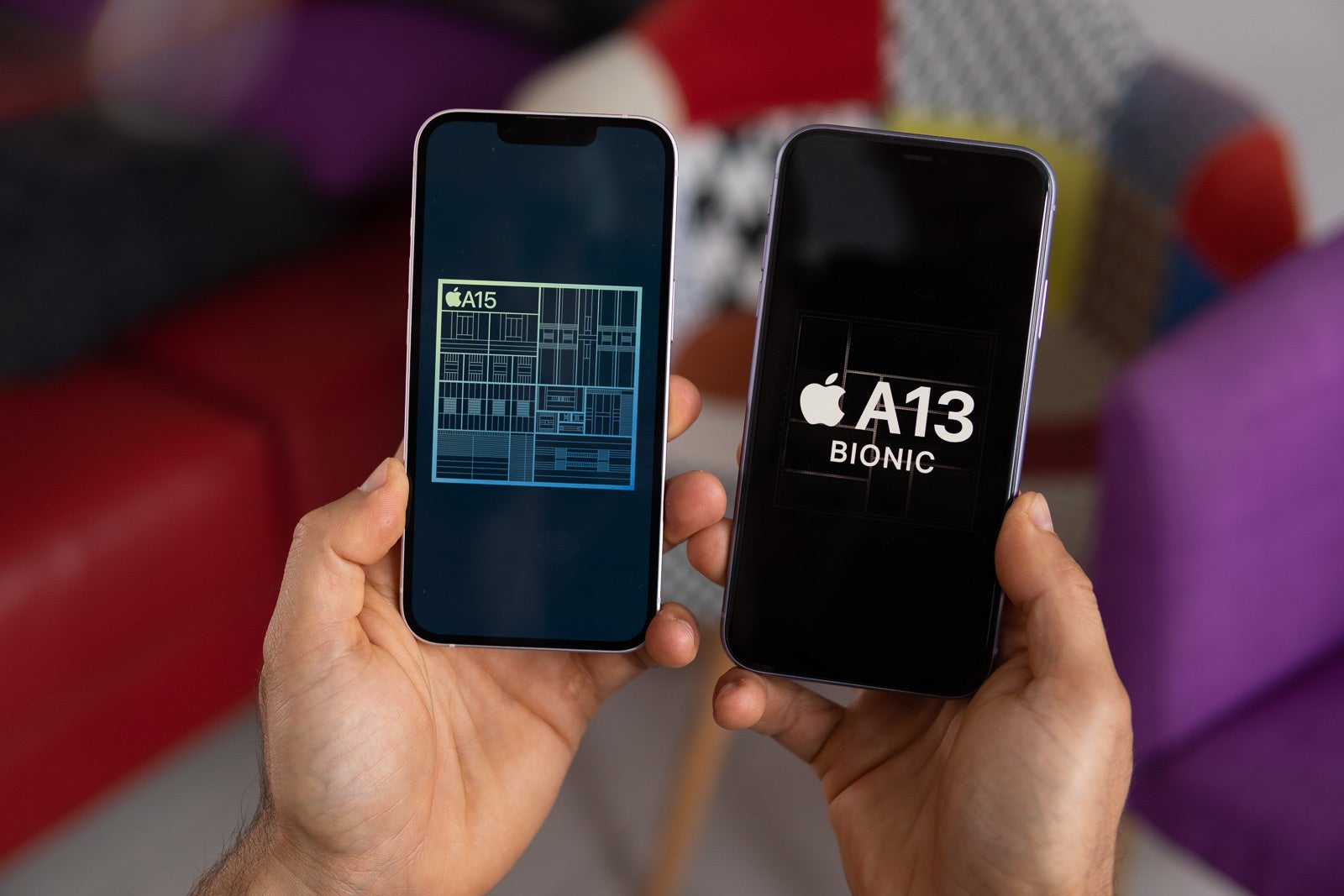 Apple's custom made silicon has led the market in terms of performance over the past few years, and this lead only continues with the new Apple A15 Bionic processor in the
iPhone 13
. You get improvements on all fronts: CPU, GPU, AI and even the camera ISP.
Below, you will find benchmark results that compare the
iPhone 13
with its A15 against the iPhone 11 with its A13 processor:
We can see that Apple has only made very slight improvements to the performance, but compared to the 2-year old iPhone 11, it's a noticeable difference.
What was a bit unexpected, but great is that the
iPhone 13
now starts at 128GB of storage on board, double the storage on the iPhone 11. You also have 256GB and 512GB
iPhone 13
versions.
One area where the
iPhone 13
brings a notable improvement over the iPhone 11 is connectivity. First, because the
iPhone 13
supports 5G while the iPhone 11 does not, and second because of the sheer amount of bands and bandwidth supports. We still don't think 5G should influence your decision on buying either one as even with 4G LTE on the iPhone 11 we are still solid download and upload speeds, but it is becoming more and more a factor.
Battery and Charging
iPhone 13 fixes one of the iPhone 12's biggest flaws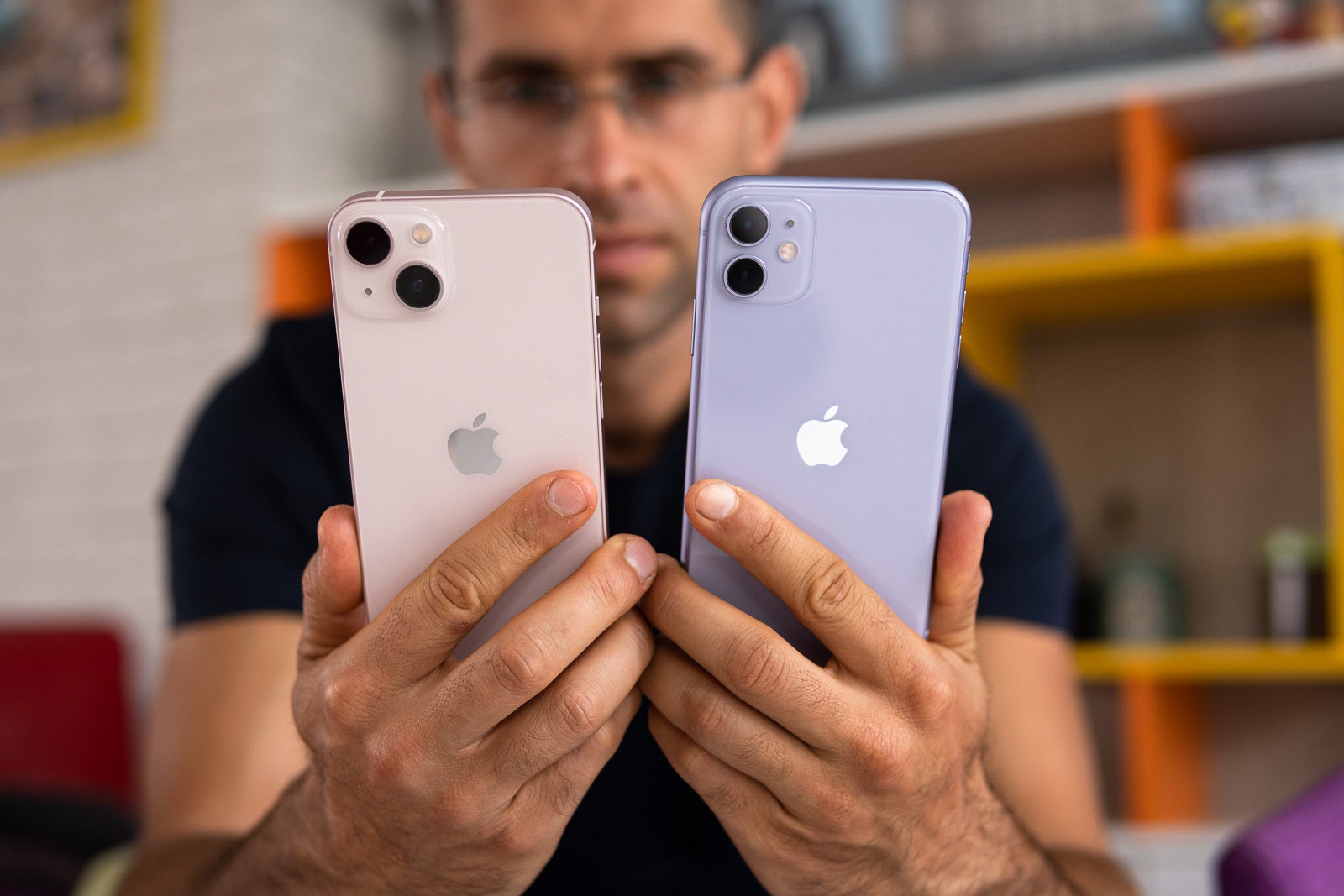 The
iPhone 13
has a slightly larger, 3227mAh battery cell compared to 3110mAh battery on the iPhone 11. That's a modest improvement of about 4%, in case you were wondering.
Our independent battery tests confirm that the
iPhone 13
is indeed hitting longer battery life numbers than the iPhone 11, and quite noticeably so.
PhoneArena Battery Test Results:
In real life, both phones last us about a day of full use, but the
iPhone 13
can be pushed with more gaming and video recording and still last that long, while the iPhone 11 would last a bit less. The important thing is that you get those battery improvements all across the board, in all three of our different tests.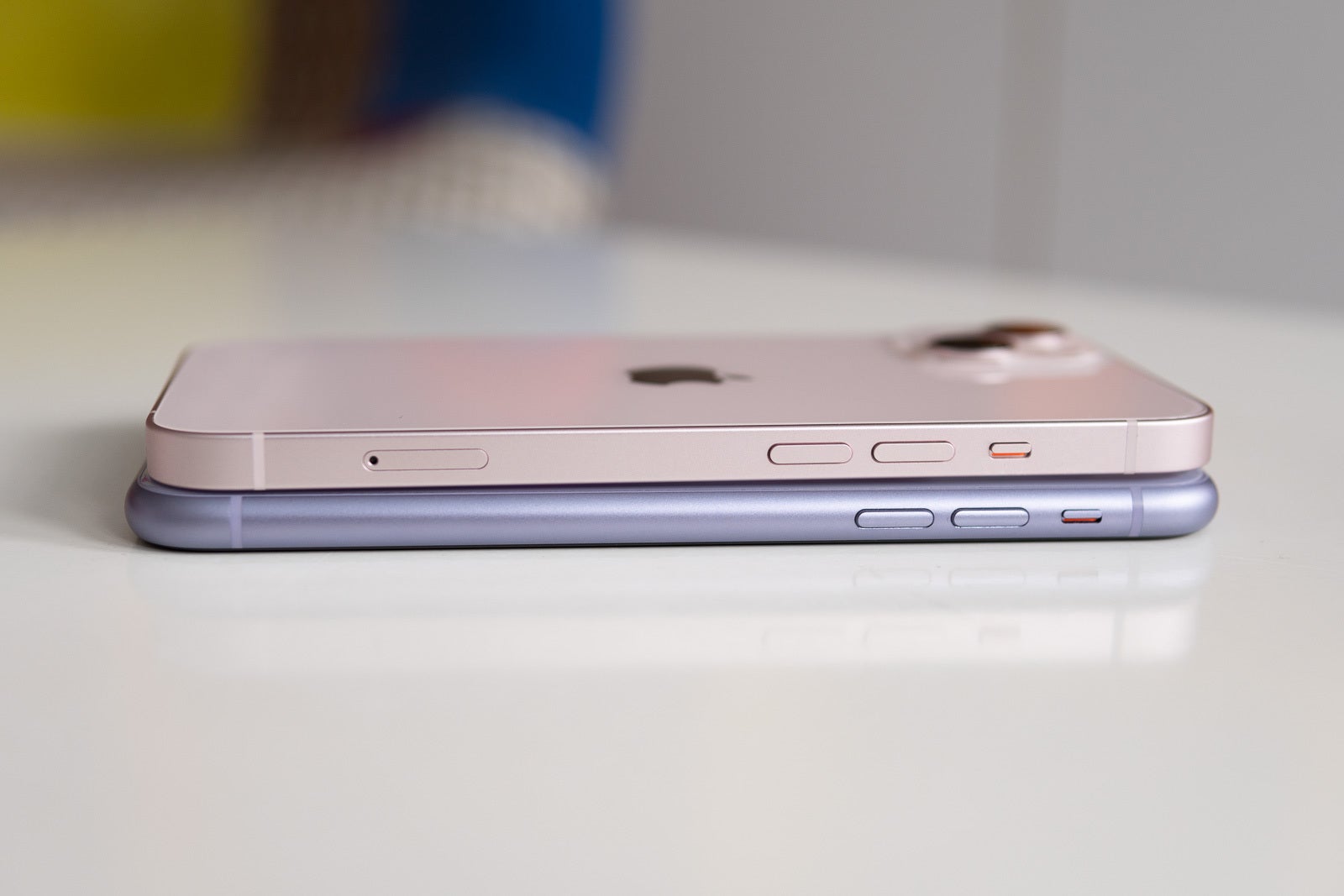 On the charger front, Apple "innovated" in the past couple of years by not including a charger or headphones. If you want to benefit from fast charging speeds you would need to spend an additional $20 bucks for a fast charger.
As for charging speeds, the
iPhone 13
max charging rate is set at 20W compared to 18W on the iPhone 11, so no big difference. Both phones also support wireless charging and any Qi charger will work, but the newer
iPhone 13
has MagSafe with magnets inside, so it snaps neatly to compatible chargers to get optimal speeds. Also, in terms of wireless charging speeds, you get up to 15W on the
iPhone 13
, and only up to 7.5W on the iPhone 11.
iPhone 13 vs iPhone 11: Specs Comparison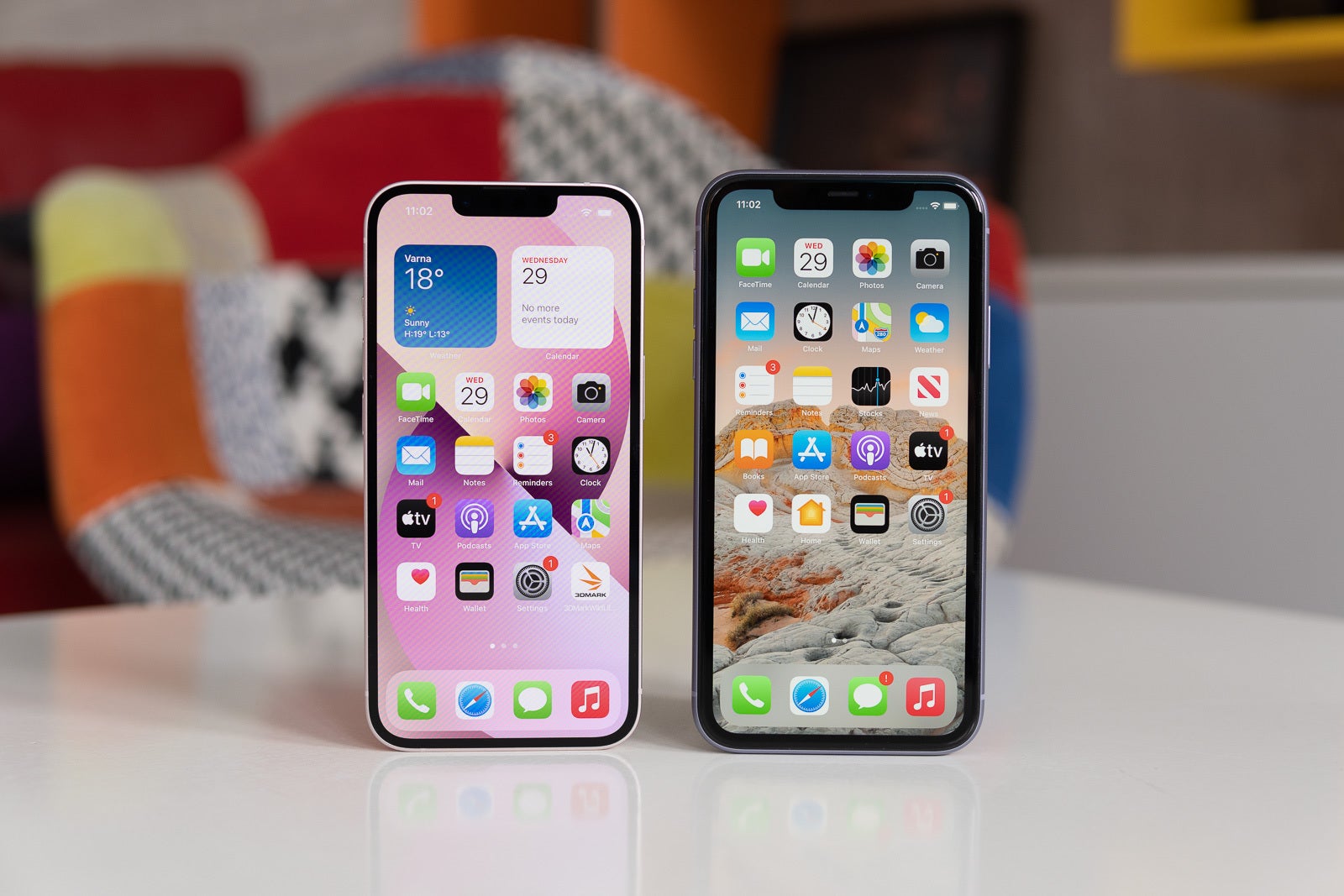 And here is a detailed specs comparison between the
iPhone 13
and iPhone 11.


iPhone 13
iPhone 11
Size and Weight
146.7 x 71.5 x 7.65mm, 174g
150.9 x 75.7 x 8.3 mm, 194g
Display
6.1" OLED, 60Hz, HDR support
1170 x 2532 pixels

6.1" LCD, 60Hz
828 x 1792 pixels
Processor
Apple A15 Bionic
Apple A13 Bionic
RAM
4GB
4GB
Storage
128/256/512GB, non expandable
64/128/256GB, non expandable
Cameras
12MP wide camera, f/1.6 aperture
12MP ultra-wide camera, f/2.4 aperture
12MP wide camera, f/1.8 aperture
12MP ultra-wide camera, f/2.4
Battery size
3227 mAh
3,110mAh
Charging speeds
20W wired, 15W MagSafe wireless
18W wired, 7.5W MagSafe wireless
Prices
after iPhone 14 launch, starting price is $700
after iPhone 14 launch, iPhone 11 is discontinued at Apple.com


Which one should you go for? At the end of the day, the
iPhone 13
beats the iPhone 11, but is the difference worth it? The
iPhone 13
costs $700 dollars after the
iPhone 14
launch, while you can get an iPhone 11 for way below $500 these days, and that's a solid difference. If you really care about display quality, HDR and the slightly longer battery life, the answer is yes, but we were still quite impressed with the iPhone 11 and how it delivers very similar camera quality and solid performance, and it's a safe bet if you want a budget iPhone.
What are your thoughts about the differences between the
iPhone 13
and iPhone 11, and do you think the differences justify the higher price?
Recommended Stories