iPhone 13 vs iPhone 13 Pro
3
We may earn a commission if you make a purchase from the links on this page.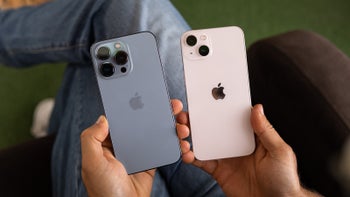 To Pro or not to Pro?
That is the question that Apple has posed to millions of consumers. Here is what it boils down to with the iPhone 13 series: we have the iPhone 13 and the iPhone 13 Pro which look similary, but the Pro has ProMotion screen for smoother scrolling and quite a few camera features that you won't find on the regular version.
The 13 Pro, however, is also noticeably heavier and much more expensive than the vanilla model.
So is it worth splurging more to get those Pro features? Read on to learn about all the little quirks and differences.
iPhone 13 Pro pros and cons


Different colors and a bigger camera module on the Pro, which has also gotten a lot heavier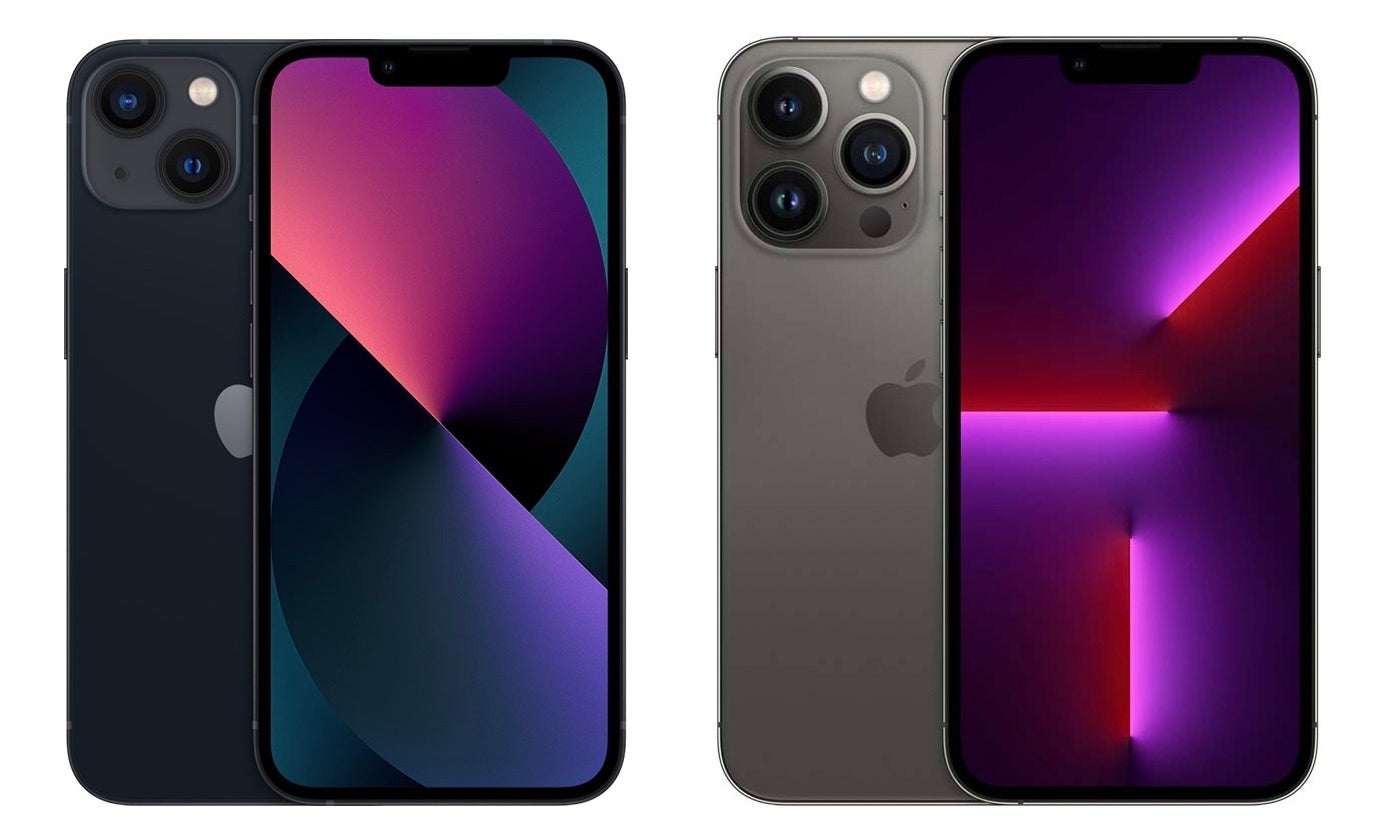 (Image Credit - PhoneArena) iPhone 13 (left) midnight color is a deeper black than the grayish Graphite on the iPhone 13 Pro (right)
The iPhone 13 and the iPhone 13 Pro look similar, but not quite identical. The screen sizes are the same at 6.1 inches, and both feature flat sides and a flat screen. The glass on the back of the Pro, however, has a matte finish vs a glossy one on the vanilla 13.
The 13 and the 13 Pro are also built slightly differently: you get a lighter aluminum construction on the iPhone 13, while the Pro version comes with a stainless steel frame. That also results in the Pro model being noticeably heavier. It weighs a whopping 204 grams now, while the non-Pro model weighs a more reasonable 174 grams. So if having a lighter phone is important, the regular iPhone 13 actually has that advantage.
For all else, both have IP68 water protection, and both have the same styling with a boxy look and flat sides.
As for the
colors
, the iPhone 13 comes in more vibrant colors including a new Pink option, while the iPhone 13 Pro is available in more muted color options with the Sierra Blue being the new one.
120Hz ProMotion display
Variable refresh rate makes a difference
While both the iPhone 13 and 13 Pro have the same 6.1-inch screen size and both use the same OLED technology (meaning colors, contrast and viewing angles are identical), the iPhone 13 Pro model is getting one extra feature that makes all the difference:
ProMotion
.
This means that the Pro model will adjust its refresh rate depending on the content and can run at up to 120Hz for buttery smooth scrolling when you need or drop down to just 10Hz to preserve battery with static content, while the regular iPhone 13 model runs at 60Hz all throughout.
Display Measurements:
There is one other difference in terms of display quality: the Pro has a higher maximum brightness at up to 1,000 nits compared to 800 nits on the regular iPhone 13. For all else, both phones support HDR, and look quite similar.
Performance: Apple A15 analyzed
You get more RAM and one extra graphics core on the Pro model
While we have that difference in display quality, there is no such gap when it comes to performance and processors. Both the 13 and the 13 Pro are rumored to come with the Apple A15 Bionic chip, the latest made by Apple processor, and both run at the same CPU clock speeds. However, there is a difference in the GPU performance as the iPhone 13 features a 4-core GPU, while the iPhone 13 Pro comes with a 5-core GPU.
Below, you can find benchmarks for these two models, they show identical CPU performance and a slight difference in GPU speeds:
With the extra graphics core of the Pro model, it scores higher on graphics benchmarks as well, but maybe not quite as much as you might have hoped.
One difference that spoils that performance equilibrium and tips it in favor of the iPhone 13 Pro is the 6GB of RAM versus 4GB RAM on the non-Pro model. That shouldn't bother those looking to save some money on the regular model, but if you are multitasking a lot and want more apps to stay open in the background, the Pro model has the RAM to handle that better.
On the storage side, the base version of the iPhone 13 now starts at a much more reasonable 128GB storage (double what we had in the iPhone 12 series), and that matches the base Pro model, which also has 128GB of on-board memory. Of course, you can upgrade to 256GB and 512GB on both, and on the Pro you can go to up to 1TB.
Cameras
All-new larger sensors and a 3X zoom lens
If you still have doubts whether to Pro or not to Pro, the camera department might be the one area where you need to read carefully.
The iPhone 13 comes with a dual-camera system on its back, with a main wide camera and a secondary, ultra-wide snapper, while the Pro version adds a telephoto zoom camera on top of that.
Here is a comparison of the cameras on the 13 vs the 13 Pro:
Main 1X camera: 26mm on both, f/1.6 on iPhone 13 vs f/1.5 on iPhone 13 Pro, larger sensor on the Pro
Ultra-wide camera: 0.5X, or 13mm on both, f/2.4 on iPhone 13 vs f/1.8 on Pro, larger sensor on the Pro
Telephoto camera: missing on iPhone 13, 3X zoom on iPhone 13 Pro
Apart from the missing zoom camera, the main difference technical between these two is in the sensor used for the main camera. The iPhone 13 actually uses the same sensor as the one on the iPhone 12 Pro Max, while the iPhone 13 Pro makes the jump to an even larger sensor and a wider aperture. In exact terms, we have a 1/1.9" sensor with a 35.2mm² area, while the iPhone 13 Pro features a 1/1.65" sensor with a 44mm² area, nearly 25% larger. In practice, this means the iPhone 13 Pro can gather more light and can also use faster shutter speeds, so you have a better chance of snapping a moving object without it being blurry.
There is one other major difference between these two: Apple ProRAW. This RAW camera format is simply not available on the iPhone 13.
The LiDAR sensor for augmented reality is also only available on the Pro model. This sensor helps with portrait mode where it improves edge detection. Apart from that, it's an AR sensor, optimized to scan a room and can be a useful tool for some professionals, and also AR gamers.
In terms of camera modes and features, both have the
Photographic Styles
feature for more advanced camera filters.
But let's waste no time and take a look at the photos, shall we?
< iPhone 13 Pro
iPhone 13 >
Despite the difference in sensors, images from the two appear identical in most cases, and unless you have a very challenging lighting situation, you will barely see any difference at all.
Once you zoom in, however, you get a much cleaner photo on the iPhone 13 Pro. The maximum zoom level on the 13 Pro is now 15X, while the regular iPhone 13 can only zoom up to 5X.
< iPhone 13 Pro
iPhone 13 >
Using the main camera at night, the experience is a bit better on the 13 Pro: with its faster aperture and bigger sensor, it usually takes a few seconds less to capture a night mode photo. But the actual photo is quite similar, you can only notice a tiny difference in clarity when you pixel peep and zoom in.
< iPhone 13 Ultra-wide
iPhone 13 Ultra-wide >
The ultra-wide camera on the Pro, however, does a much better job at night. The regular iPhone 13 captures a noise image with mushy detail, especially around the corners, while the Pro captures a cleaner, more detailed shot.
Macro mode on the iPhone 13 Pro
is one feature the regular iPhone 13 does not have, and we feel like that's kind of a big loss. Macro mode uses the new ultra-wide camera on the Pro that can now auto-focus and lock focus on objects that are up to 2cm close.
The Pro model will also capture more light in the dark and has the Night Mode Portrait feature that the regular 13 does not have.
On the video side, both phones support the new
Cinematic Mode
which shoots in 1080p 30fps, and allows you to blur the background, as well as track focus and have it automatically switch when relevant while recording video.
Both phones, however, now come with sensor shift image stabilization, a newer technology compared to the traditional OIS. Sensor shift moves the whole sensor to counteract hand jitter instead of just moving the lens, and this results in slightly better stabilization (most notably, it dramatically reduces exposure pulsing that we used to have with OIS).
Finally, the iPhone 13 Pro also supports ProRes video recording. Keep in mind that if you buy a 128GB iPhone 13 Pro, you can only record 1080p ProRes video, and in order to record 4K ProRes, you need to purchase at least a 256GB model. And since those ProRes files are truly gigantic (1 minute of ProRes video takes up 6GB compared to around 300MB for 1 minute of regular 4K30), Apple is also providing serious iPhoneographers a 1TB storage model.
Call quality, Wi-Fi and 5G connectivity
Just like the iPhone 12 series, both the iPhone 13 and iPhone 13 Pro come with 5G connectivity support with all required bands for major US carriers (and a ton of international bands). There is no difference in the connection speeds that you will witness on these two phones.
We have not seen any difference in call quality either. The microphone and earpiece sound loud and clear and we have had no issues with call quality.
Battery life
How do a larger battery and 120Hz affect the iPhone's battery life?
Unlike last year when the Pro model had the same battery size as the non-Pro, this year the Pro model actually has the smaller battery capacity.
Apple does not disclose this data on its website, but teardowns reveal that the iPhone 13 Pro has a 3,095mAh battery cell, while the regular iPhone 13 model features a slightly bigger, 3,227mAh cell.
We have tested both these phones and we found that both deliver very good battery life, but the Pro lasts a bit longer:
PhoneArena Battery Test Results:
On the charging side, there are absolutely no differences: both support 20W fast charging speeds. We measured that it takes around 1 hour and 50 minutes to fully top up the phones, not fast by any means.
And yes, there is no charger included in the box, so if you don't already own one, you'd need to buy one separately (it costs $20 over at Apple).
Both also have hidden magnets on the back that enable them to neatly snap to MagSafe wireless chargers where you get a maximum charge rate of 15W.
Which one should you go for: iPhone 13 or iPhone 13 Pro?
...or wait for the iPhone 14 Pro?
At the end of the day, however, the biggest difference between the iPhone 13 and iPhone 13 Pro is one in price.
The Pro models will run you about $200 more and that is quite a bit of a premium to pay. What you get in exchange is a fast refresh rate screen, an additional zoom lens, and the "Pro" features like ProRaw and ProRes video. However, if you are not absolutely dead set on those features, we can see how the iPhone 13 actually offers a greater value for the money for most people.
iPhone 13 price (128GB) — $830 SIM-free ($800 with a carrier)
iPhone 13 Pro price (128GB) — $1,000
Apple has certainly added a lot more features to differentiate the Pro from the non-Pro, and the only thing that might be stopping us is just how heavy the Pro has become, but on the upside, that comes in exchange for much better battery life.
So... do you see enough reasons to go "Pro"?
Recommended Stories