Lenovo IdeaPad Yoga 11 Review
1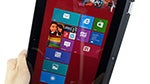 Introduction:
Out of all the major players in the tablet/laptop space, there's no arguing that Lenovo has been relentless when it comes to having a deep portfolio. In the ultrabook department, its IdeaPad Yoga 13 has been a mainstream hit – especially with its intriguing convertibility aspect. Well, if you're willing to settle with the Windows RT experience, while also saving some money and carrying around something more compact, the IdeaPad Yoga 11 might have the same level of appeal to keep you engaged. Just like its bigger sibling, the Yoga 11 has the gear to make it one of the more versatile Windows RT devices.
The package contains:
Wall Charger
Quick User Guide
Important Safety and Handling Information
Design:
Without a doubt, the Lenovo IdeaPad Yoga 11 jumps out most for its rarely seen multi-mode convertible aspect, which is a hallmark of the series. Visually, the Yoga 11's interesting design scheme is further complemented by its sturdy construction, soft touch matte finish, and streamlined body. Compared to other Windows RT slates, the Yoga 11 is both thicker (0.61" / 15.5mm) and heavier (2.8 lbs / 1.27 kg), but we have to bear in mind that it's packing along a full-sized QWERTY keyboard for added versatility. To top it off, we truly adore the various positions we can prop it in – essentially giving it some yoga-like moves. Ultimately though, it's the unique flipping and twisting capabilities of the Yoga 11 that makes it a standout hit amongst the Windows RT crop.
Below the display, lying flush to the surface, is the tablet's square shaped
physical Start button
– while the tablet's sole
front-facing camera
, a measly 1-megapixel one, is perched on the opposite side.
Considering that the Yoga 11 is more laptop-like than tablet, it benefits from having an arsenal of ports. Around its edges, we find 2 full-sized USB 2.0 ports, a combo 3.5mm headphone jack, full-sized HDMI port, proprietary charging port, a full-sized SD card slot, and left/right speaker grills. In addition, there are a few physical buttons too, the power, orientation lock, and volume control, but unfortunately they're all nearly flush and difficult to feel out.
Keyboard:
One step ahead of its Windows RT brethren, the IdeaPad Yoga 11 doesn't require an optional keyboard to broaden its depth. Rather, it's already there, ready and waiting! For those of us used to typing on a larger sized laptop, there's some adjustment needed to get a good feel for the Yoga 11's keyboard layout. However, after a bit of practice, we find ourselves moving relatively quickly. As for the keys, they're slightly raised and bunched close to one another, but there's a decent amount of travel with them. In addition to using the touchscreen, the trackpad also works well for a variety of navigational controls. Most importantly, it's nice to find that the keyboard is deactivated when the Yoga 11 is propped up in its tablet and tent modes – though, it does feel a bit awkward feeling the buttons as we grasp the tablet with both hands.
Display:
Somewhat expected to say the least, we're not terribly wowed by the
11.6-inch 5-point capacitive HD Glare Multitouch display
, as details lack that sense of sharpness with its
1366 x 768 resolution
. However, for most trivial things, such as surfing the web, it's more than adequate for the job. Despite that, we have to admit that our eyes really take notice of its punchy color tones, which receive more vibrancy thanks to its 350 nit brightness. Viewing angles are good, but outdoor usage still requires some proper shielding from the sun.
Recommended Stories