iWatch production reportedly delayed until Q4 2014
17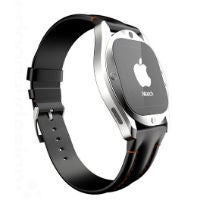 There have been tons of conflicting rumors about the iWatch ever since the idea first surfaced that Apple would make its own smartwatch. Many have been hoping that Apple would be releasing the device by the end of this year, and the introduction of HealthKit in iOS 8 made it seem like Apple wants to make that happen. But, new rumors are saying iWatch production has been delayed until Q4 2014, meaning the device may not launch until 2015.
The news comes from Taiwan, where the delay was reportedly announced during a corporate conference at TPK. TPK has been one of the major suppliers of touch components for Apple's iPhones and iPads, and has been rumored to be a supplier for the iWatch as well. One of its subsidiaries TPK Films is one of the few companies that can build touch modules using silver nanowires, which allow components to be flexible and very small (i.e. very good for smartwatches.)
This is the second time that it has been rumored that iWatch production wouldn't start until late this year. Ming-Chi Kuo, an analyst who often gets scoops on Apple, recently said that iWatch mass production wouldn't be starting until
November
, which would put the release sometime in early 2015.