iPhone 5: what we think we know
62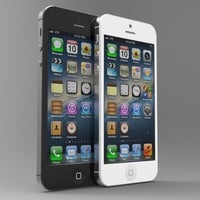 It seems like ever since Tim Cook took charge of Apple, security measures at the company have not been as tight as they used to be. Just look at how alleged iPhone 5 components, mockups, and dummy units are constantly being exposed online, not to mention the flurry of iPhone rumors that we have to deal with every day.
Of course, that isn't necessarily a bad thing since we kind of get to know what the smartphone will have to offer before actually hitting the shelves. In fact, today we decided to sum up all the iPhone 5 rumors in one place, just to have an idea as to what the smartphone is shaping up to be. Care to join us for a ride through rumorland?
First, let's give it a name
iPhone 6
, or simply The new iPhone. If the latest leaks are to be trusted, the latter option seems the most likely since that is what is
written on the device's retail packaging
. Besides, Apple switched to a simpler naming scheme with
the new iPad
, which we expected to be called the iPad 3, as you might recall, and this also leads us to believe that the iPhone is to follow suit. "But what about that huge number 5 in the Apple press event invitation?" you ask. Well, this may seem like solid evidence, but it does not necessarily indicate that iPhone 5 will be the handset's moniker. Another interpretation of this could be that a total of 5 new devices are to be announced on September 12:
four new iPods
and the new iPhone itself. The least likely name for the device seems to be iPhone 6. Sure, we are expecting the 6th generation of the iPhone to be unveiled, but from a marketing standpoint, skipping a number just doesn't seem right, unless Apple wants people to wonder what happened to the iPhone 5.
Design
Motorola DROID RAZR
. Check out these photos in case you are wondering
what the new iPhone might look
when being held. It is also said that the 3.5 millimeter headphone jack will be moved to the smartphone's bottom side, but other than that, we expect the new iPhone to be pretty similar to its predecessor, with a lock button on top, and volume buttons and silent switch on the left side.
Display
The bigger LCD screen we just mentioned is
expected to be of 4 inches, with a resolution of 1136 by 640 pixels
. That translates into a very high
pixel
density of 326ppi, just like on the
iPhone 4S
Retina Display. With an aspect ratio of 16:9, those movies and YouTube videos will occupy the entire screen without being cropped on the sides,
video games will be even more enjoyable
, while room for a fifth row of icons will be made in the user interface. The question remains whether with those extra 0.5 inches of display real estate, the smartphone will be as easy to use with a single hand as the current model. Some claim it will, some claim it won't, but it seems like that will be up to each individual user to decide.
Processor
Apple A6 chip
,
supposedly made by Samsung
, will be providing the smartphone with processing power. Now, in case you're wondering why Apple won't equip its new iPhone with an A5X SoC after putting the first iPad's A4 inside the iPhone 4 and then iPad 2's A5 inside the iPhone 4S, that's because doing so doesn't make sense. What makes the A5X better than the A5 is the mighty GPU, but while the new iPad needs all that graphics performance for its high-res Retina Display, the new iPhone won't really require that much GPU power. Therefore, it seems logical Apple to develop a new processor with performance suitable for the new iPhone and power efficiency to ensure decent battery life.
Camera
Whether you like it or not, there is not going to be a huge leap in the camera department. It is rumored that an 8-megapixel camera will be situated on the new iPhone's back, and its performance should be similar to that of the iPhone 4S's 8MP shooter. That isn't too bad, of course, since the 4S can take some pretty decent photographs, as many of our
smartphone camera comparisons
have shown. The module itself will be smaller in order to fit inside the slim body of the new iPhone. However, rumor has it that the front-facing camera is due for an upgrade (finally!) and will now support HD video calls over FaceTime.
LTE and NFC
This one is a no-brainer. Nobody expects Apple to release the new iPhone without LTE support, especially when the new iPad has LTE, and even cheap Android mid-rangers can run on 4G airwaves. LTE connectivity on the iPhone, however, might be available only in the U.S., and only through select carriers, just like the case is with the new iPad. What's far less likely to make an appearance on the new iPhone is NFC (near field communication) technology, which is used for contact-less payments and exchange of data between devices. The thing is that NFC is not that widely adopted in many markets yet, which would seriously limit the things that users will be able to do with it. But then again, who knows, Apple might put an NFC chip inside its smartphone after all and enable its use when the ecosystem is ready. Besides, doing so would be a huge incentive for retailers to adopt NFC payments throughout their outlets.
Software
full iOS 6 coverage
.
Nano SIM card
Accessories
We expect seeing a new,
smaller dock connector
on the new iPhone, not the well-known, but kind of old 30 pin one. Therefore, included will be a new cable that owners will use to hook up their smartphone to a computer, or to simply charge its battery. A smaller dock connector will also free up some valuable space inside of the device, so that additional components can be installed, just like what the introduction of Nano SIM cards will do. Another accessory that might be altered is the wired headset.
Photos that were leaked a few days ago
suggest that the earphones have been redesigned, but whether that rumor holds water or not will become known in about a week.
Battery life
Since the new iPhone will be bigger, one might think that a beefier non-removable battery will be installed. However, the only leak of what is said to be
the new iPhone's battery shows a 1,440mAh cell
. In comparison, the iPhone 4S has a 1,430mAh battery, which indicates that the new smartphone model will last about as much as its predecessor on a single charge, if not even less due to possible increase in consumption by the bigger screen and LTE radio. Of course, Apple might have balanced things out by applying some advanced power management techniques, but we'll be keeping our fingers crossed for a bigger battery up to the smartphone's announcement.