New iPhone to share the stage with new iPod models?
32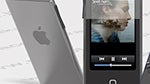 There something approaching a consensus that we aren't likely to see an iPad Mini at Apple's even next week (instead we'd get a separate even later in the fall), but that doesn't mean the newest iDevice will have the stage to itself. There is growing evidence that Apple may use the venue to launch some new PMPs, perhaps even a redesigned iPad Nano.
Details are somewhat scarce, but based on leaked cases tips sent to 9to5mac, it appears there could be significant refreshes to the iPod nano and iPod shuffle lines. Much of the update may simply involve the release of new colors and new internal storage options, but there is also evidence of a totally new PMP line, one that would be closer in profile to the original iPod nano line that was significantly taller than wide. Renderings (like the one shown below) are based on cases that have been leaked, and suggest that Apple maybe looking at resurrecting a smaller device, but with a larger touchscreen and an iPhone/iPod-like home button on the bottom.
Whether such a device would be billed as a different type of iPad nano, or simply get its own branding isn't known. If these rumors pan out it could be an interesting event – in years gone past it wasn't unusual for Apple to announce several product refreshes at one event, but in recent years they have tended towards events tailored for a specific part of their product line. Of course the PMP part of Apple's lineup is one of the few areas where sales have been regularly decreasing, so if they hope to rekindle interest in their iPod lineup then perhaps letting new models ride on the coattails of their most popular product isn't a bad idea.
Either way we'll be sure to keep you up to date Apple's takes the stage next week!
source:
9to5mac