Fully assembled iPhone 5 front leaks in high-res photos and video, A6 chip shown too
83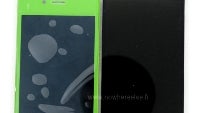 We've had iPhone 5 leaks so far, but they were either of individual components around the front panel, motherboard and so on, or too blurry and low quality to tell much of how the next iPhone will look like in the front.
Now we have good quality photos of the assembled front, complete with the home key underneath the larger display. We say larger, since the pics size the front assembly up with the
iPhone 4S
, and the difference is pretty obvious.
There are also pics of the motherboard with the EMI shield on and off, and the chipset on one pf the photos has a blurry
A6
stamped on it, so that's that, it it's real - silicon tailored for the sixth generation iPhone. The new USB cable is also here in its full glory, proving once again the 8-pin dock connector at the bottom of the iPhone 5, and eventually the iPad mini. It is double-sided, so it will work no matter how you plug it into the iPhone.