New iPhone parts start to leak, confirm 16:9 aspect ratio 4" screen
99+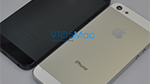 Here's the right way to start out the week after a holiday weekend: brand new iPhone parts! 9to5Mac received several leaks this morning from suppliers that reveal potential parts of the new iPhone (and given the naming convention for the new iPad, it may really be called "the new iPhone"). We've reproduced the best of them below for you to enjoy.
Notice that the pieces clearly show an elongate form factor to support the
16:9 "widescreen" display
that will increase the screen size to 4" without significantly increasing the size of the phone itself. The width in fact should stay exactly the same, while the height may increase very slightly to accommodate the new screen, although a reduction in bezel size should make the change minimal. Apple probably wants that extra length so they can pack it with an even larger battery if they are planning to release an
LTE model
this fall, which most observers expect.
Checking out the back plates you see that the new iPhone appears to have undergone a slight design refresh, with metal strips on the top and bottom. They seem to mirror the bezel on the front, adding another layer of symmetry to the next iPhone. Not merely aesthetic in nature, the radio antennas seem to be molded into those areas, which may improve reception and will certainly allow the phone to avoid any "death grip" problems (which were actually solved as long ago as the
Verizon version
of the iPhone 4). Also apparently confirmed in these images are the new
smaller dock connector
that has been expected.
Of course one final question remains: Are they legit? 9to5Mac seems to trust the supplier that leaked them, and the photos are high enough resolution to make it clear we are looking at real objects, not Photoshop fakes. It's possible they could just be prototypes, but given the confidence of the source, the timing (the design of this year's iPhone would need to be locked in for parts acquisition), and concurrence with
existing rumors
on screen changes, it seems a good bet that you're either looking at the real McCoy, or else the real thing will end up very much like this.
Enjoy!
source:
9to5Mac
via
The Verge