Redesigned Apple iPhone 5 earphones show horse head-like appearance
47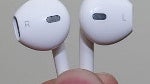 You would have to be living on a far away island with no radio, television, internet, newspaper or telephone not to know that
the 6th generation of the Apple iPhone is expected to be unveiled on September 12th
. We've also seen a number of mock-ups of the phone,
put together by assembling leaked parts
. One
video that was released on Saturday
purportedly revealed the real
Apple iPhone 5
until it was discovered that the model number and FCC ID number on the back both belonged to the
Apple iPhone 3GS
.
Still. we now have a pretty good idea of what to expect on the 12th of this month when Tim Cook shows off the new design of Apple's smartphone with a larger screen, a faster processor, a
smaller dock connector
and a new location for the earphone jack. And actually, it is the latter that we want to discuss. A video on a Vietnamese site claims to show
the redesigned earphones that will come in the box
with the redesigned phone. The wire on the new earphones say that they were designed by Apple in California and assembled in Vietnam. The site goes on to say that the earphones look like they won't come apart like earbuds and that they resemble horse heads.

The wire says the earphone was Designed by Apple in California and Assembled in Vietnam
Vietnam has seen some legit Apple iPhone leaks in recent years
, so while we would advise you to take these leaks with the proverbial leaks with a grain of salt until the phone is introduced, there could be a reason to believe that the earphones for the Apple iPhone 5 will look exactly like what you see in the video.
"In my hands are the new earphones for the iPhone 5 that is about to come out - Apple's next generation of iPod [sic]. These will replace the current earphones that are on the market. These are manufactured at Phax Co factory in Vietnam. They have the appearance of a horse's head, not like earbuds. When they are worn, they have a much smaller profile. They have the appearance of a fully integrated, single unit - there's no part that looks like it would come apart - not like earbuds; the integrated design is characteristic of Apple products. Here I have the old earphones for comparison. The new ones are much smaller; when they are worn, they do not hurt the way earbuds do. You can see on the old ones the surface is a separate part that looks like it can be detached - not like the small surface of the new one. The old earphones were mostly made in China, with some in Vietnam. But the new ones are clearly made in Vietnam. (Reading from the wires): "Designed by Apple in California, assembled in Vietnam."-Translation of video
source:
Tinhte
(translated) via
AppleInsider