Take a look at what games, apps and videos will look like on the new Apple iPhone
48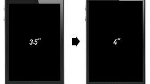 When the
Apple iPhone
originally launched in 2007, the
3.5 inch screen on the device was considered to be large
. The "iPhone killers" of the time, such as the
LG Voyager
and the
Samsung Instinct
had screen sizes even smaller. The LG Voyager, for example, featured a 2.81 inch screen that we characterized as being "generous" at the time. In November 2009, the Windows Mobile powered
HTC HD2
raised the ceiling
with its 4.3 inch screen
. And still, the Apple iPhone kept its display at 3.5 inches.
When the
Motorola DROID
launched, its 3.7 inch screen topped the Apple iPhone, and Android models never looked back. The Motorola DROID X carried a 4.3 inch screen and the glass continued to get bigger. The
Samsung Galaxy S III
has a 4.8 inch display, the
Samsung GALAXY Note
carries one measuring 5.3 inches and the
Samsung GALAXY Note II
has a
screen measuring 5.5 inches
.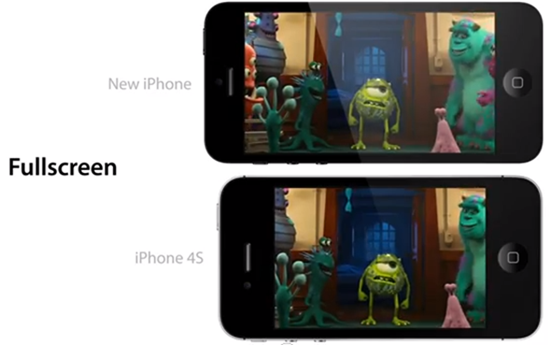 The 6th generation Apple iPhone is expected to feature a 4 inch screen
There was much disappointment when the
Apple iPhone 4S
was introduced with the same 3.5 inch screen. The Cupertino based tech giant explained that the reason why the screen size on its iconic smartphone has never been made larger was to
keep nearly all areas of the display reachable by the average thumb
while holding the device with one hand. But as the
success of the Samsung Galaxy S III
and the
Samsung GALAXY Note
has proven, people want larger screens. Both devices have
sold over 10 million units
.
As well as the Android platform is doing, Apple probably felt that it had no choice but to
increase the size of the display
on the Apple iPhone to at least 4 inches. With the horizontal resolution expected to be unchanged, the vertical resolution is increased making the screen taller. The speculation calls for the new iPhone screen to have a resolution of 640 x 1136. While the 16:9 aspect ratio, used for many wide screen monitors and televisions, is said to be perfect for movies, what about games and apps?
MacRumors
made a little video clip showing what they feel apps, games and videos will look like on the 6th generation Apple iPhone. While not the best solution, apps will probably be letter-boxed on the new iPhone model similar to how certain iPhone apps look on the Apple iPad, at least until developers get a chance to improve the resolution on their software.
We should see exactly how games, apps and videos look on the new Apple iPhone on September 12th,
when the next-gen model is expected to be introduced
.
source:
MacRumors