iOS 7 drives a young child to tears
55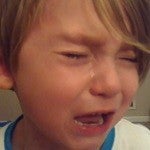 "No! I don't want iiiiitttt," sobs little Jack, 4 years old, and terribly troubled at the appearance of iOS 7 and its lack of skeumorphism in the user interface.
Apparently pastel colors are only so-effective at enticing children, and little Jack is evidently immune to such soft and bright colors or the accompanying parallax view as the icons seem to float above the wallpaper.
Imagine the horror this child faced after seeing the iPad his father just updated. While iOS 7 brings a host of new features to the table, there is just no satisfying some people, and young Jack could very well be the personification of those disaffected users.
We catch the exchange mid-meltdown where little Jack seems to be denying it is the same iPad he has used before. "What's different?" he asks. "Everything!" weeps the child.
"You're just gonna have to get used to it," states his dad. "No! I don't want it!" The full meltdown then ensues and you can imagine that little Jack was not allowed to play with the iPad (at a minimum). Thankfully, the video is only 16 seconds long, however, fair warning, that may exceed the tolerance levels for some of our readership's ability to endure the sights and sounds of a wailing child.
via:
BetaBeat