If the US lifts the Huawei ban, Samsung and Apple have something to be worried about
70
This article may contain personal views and opinion from the author.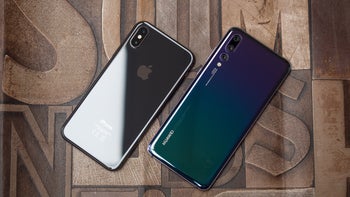 Huawei — a name that you probably haven't heard much about if you live in the States, or at least not before the past few months. But its a phone brand that has been well-known around the world for a while now. Huawei is a China-based telecommunications company (one of the oldest and biggest in the country), which has been in the smartphone industry for a while. Recently, however, it has made it big, with its name flashing in the mainstream often. It has landed in Europe with high success and, at one point, it was
this close
to selling its phones on American soil, but the US government pressured carriers and retailers to
cut their ties with Huawei
. And
so they did
.
And Apple and Samsung breathed a sigh of relief
OK, OK, that was a bit dramatic. Huawei's phones may not be instant game-enders, but they definitely have the right things going for them. We've called the Mate 20 "
the most underrated phone of 2018
", and we've called the
Mate 20 Pro
"
what the Galaxy Note 9 should have been
".
Those are some strong words, that have been used by others on the Internet as well. Do Huawei phones really have what it takes to take a piece of the cake from the market leaders? I do think so… here's why:
Huawei is a stylish trend-setter?
If I had to pinpoint a specific time when Huawei started piquing the interest of phone fans more and more, it would have to be the release of last year's
Huawei P20 Pro
— the company's flagship for 2018. It had a lot of things about it to draw attention — like the triple camera made in partnership with Leica, the huge battery, the powerful home-made Kirin 970 processor… the phone was interesting, at the very least for being something different.
But it wasn't just internals — the Huawei P20 Pro had a very distinct feature about its design — the new Twilight color. It's a super-shiny two-tone gradient that you just can't help but be hypnotized by. Huawei kept making similar color options for future phones as well.
When others start doing what you do, you are on to something
Since the P20's release, more and more phone manufacturers are adding gradient color options to their phones, recognizing that there's a market for this specific look and that it might turn into a trend very soon. A trend, seemingly started by Huawei. There's no bigger recognition of success (or potential) than having your competitors do what you do.
Currently, there are two other companies in the industry who have the power to set trends. One is Apple, which (for example) started the headphone jack's demise and made the black color cool again when it launched the iPhone 7, made the notch a thing with the
iPhone X
, and pioneered the Portrait Mode, which is present on pretty much every major phone now. The second is Samsung, which kick-started the "big smartphone" trend years ago, made the signature dual-curved Edge screen, which many tried to copy and most gave up on (it's pretty hard to make), and is constantly pushing the boundaries when it comes to camera performance.
Huawei is joining the ranks of the trend-setters, but not just with its looks. Beneath that shiny hood, there's a lot of cutting-edge tech:
Advanced technologies
Over the past year, Huawei has really been pushing the boundaries with its smartphones. The P20 Pro was among the very first smartphones with triple cameras on the back, albeit not all three were that functional — it had a regular wide-angle camera, a telephoto camera, and the third one was just a monochrome camera. Not that exciting.
Then, the Huawei Mate 20 family sported the camera trio that is currently getting really popular — a regular wide-angle, a super wide-angle, and a telephoto camera on the back, all user-accessible, all giving us a ton of options to shoot with. The only other phone that had such a camera combo at the time was LG's
V40 ThinQ
, which was announced and released in the same month as the Mate 20. Again, Huawei was ahead of the curve on that trend.
The Mate 20 Pro was also the very first smartphone to feature reverse
wireless charging
. Granted, back then we looked at the feature as a gimmick, and Samsung needed to envision it as a means to charge your smartwatch or wireless earbuds for reverse charging to shine. But that's yet another "first" for Huawei.
And now, we have the foldable phones. Depending on how you look at it, Huawei is in the lead here — while other companies are tossing around concepts and teases, only three manufacturers came out with actual devices. One of them is the unknown
Royole FlexPai
, which may or may not be vaporware, and the other two are Huawei with the
Mate X
and Samsung with the
Galaxy Fold
. Both of them extremely impressive for their own reasons. The Mate X, in particular, shook the audience with its outward folding build and the fact that it is so thin and has no gap in the middle when folded.
It was only a couple of years ago when Huawei was synonymous with "knockoff phones" that try to copy iPhones sprinkled with some DNA from other random flagships. Since 2018, this perception has repeatedly been flipped on its head and the company is slowly gaining a following of devout fans.
Most advanced all-in-one camera?
Now, we the Huawei P30 Pro has
crazy camera features
like 5x optical (lossless) zoom, 50x digital zoom, a Time of Flight module attached, and still enough room for a super-wide-angle camera. Currently, the only mainstream smartphone to pack so much diversity, ToF camera included, is the
Samsung Galaxy S10 5G
and that's
not even out for sale yet
. There's also the new RYYB sensor, which takes insane night time photos. That's a lot of new tech that others need to catch up with. Sure, the practical user will say "When do I ever need 50x zoom on my phone?". But having that much optical power on tap is certain to come in handy once or twice, at the very least for bragging purposes, and you can rest assured that competitors will be scrambling to get a similar feature within a generation or two.
< Huawei P30 Pro
Samsung Galaxy S10 Plus >
10X


< Huawei P30 Pro
Samsung Galaxy S10 Plus >
Don't get me wrong — you can still see a lot of things that Huawei does in its phones in order "to be like those other guys". We've got navigation gestures lifted straight from iOS attached to curved screens that look like they come right from the Galaxy S production line.
But that's not necessarily a bad thing — new products
often come to life through the combination of old inventions
. It's what you do with other's ideas that matters. Do you just throw everything at the wall and see what sticks, or do you actually try to put together a device that has all the right things, working coherently in unison? The latter option is, of course, hard to achieve, as it requires resources, R&D, time, and a vision. Huawei's recent products seem to be a testament that the company is putting the work in. It's not fully there yet, but it does look like it's moving towards a vision.
Yes, the phones are actually good
Now, truth be told, we still do have a beef with Huawei's software when it comes to smartphones. At its worst, EMUI still looks like
a bunch of ideas have been hacked together
with zero time to polish and re-think. It's had plenty of time to evolve and mature over the years, so we are not sure what's going on there. Either Huawei has other things taking up its priority list, or it happens to find EMUI to be beautiful and functional as it is.
At its best, it's "good enough to work with", with a couple of good ideas sprinkled here and there, mostly ones that have been lifted from Apple's iOS.
Even so, EMUI by itself just can't force me to put down a flagship Huawei phone. Why?
Well, the phones are snappy — the home-made Kirin chip has come a long way and I get enjoyable performance out of it. I've spent considerable time with a couple of Huawei devices and everything felt smooth and fluid. Their form factors, dazzling looks, the diverse cameras, and pretty screens seal the deal.
Software-wise, whatever was lifted from iOS was done with style. Like the navigational gestures with their fluid feedback, the Face ID-like face recognition on the Mate 20 Pro, zooming the camera simply by sliding your finger in the viewfinder (Samsung has finally grabbed that gesture for One UI, too), and even small stuff like having the system keyboard pop up whenever you are typing a password.
The latter is a security measure, which makes sure that your password won't be lifted by a malicious party when you are using a downloaded keyboard. It was first implemented by Apple when the company opened the doors for 3rd party keyboards and, interestingly, it is now copied by many Chinese manufacturers while the worldwide-known brands remain oblivious to the feature. But that brings me to my next point:
Do Huawei phones spy on us?
So, why is Huawei equipment banned from the US? With the construction of 5G networks being a hot topic right now, Huawei is looking to be a primary equipment supplier globally, but officials are expressing concerns that the company might be in cahoots with the Chinese government and using said equipment to install moles in the new infrastructures worldwide. Huawei's founder is a former People's Liberation Army soldier and his own daughter has been
arrested in Canada
over allegations of violating trade sanctions by selling equipment to Iran. The reasons are mostly political — the US and China are engaged in an ongoing trade dispute that doesn't look like it'll get settled soon, and the accusations that Huawei installs spy hardware or software in the products it sells abroad conveniently popped up during these times of turmoil.
T-Mobile also has a personal beef with Huawei because the phone manufacturer attempted to
steal intellectual property
from the carrier — the screen-testing robot named "Tappy".
So, the smartphones themselves are not the primary concern here, they just got burnt as a casualty of these bigger conflicts. Of course — if you think a company is shady, you will definitely put any communications device it produces in the "do not touch" list.
With no proof, experts are conflicted
I can't simply come out and say "It's fine, guys, they are not spying". In reality, there's no proof whether they are or aren't. IT companies and experts are on both sides of the fence — some are saying "We can't find any evidence of Huawei equipment sending secure information to China", while the others are arguing that "If it's Chinese spyware, it won't be that easy to detect! We need to dig deeper!". Huawei is — of course — fully denying any claims of spying on users or governments.
So, where does this leave you, the regular user who just wants to use a Huawei phone? I would say that it's extremely unlikely that Huawei would be lifting any type of sensitive data from your personal handset. At least nothing worse than what social media and other manufacturers are already trying to grab whenever they can. But, again, since there's absolutely no evidence to go on, one needs to make up their own mind on this topic.
Me? I stay vigilant and mindful with whatever brand phone I am using.
So, does Huawei have what it takes to take on Apple and Samsung?
Across the Internet, reviewers and fans are raving about the company's latest offerings. And Huawei has proven that it's not shy to spend crazy amounts of money
on marketing
to gain more mainstream attention. So, it has the two major ingredients — have a good product, get noticed.
It's no coincidence that Huawei managed to climb its way to being the
2nd biggest phone manufacturer in the world
, trailing Samsung who's in the number 1 spot (Huawei
wants that spot
next year, too).
That said, if Huawei flagships were to make it to the USA market (by the way, you can still get them from
3rd party resellers
), I'm pretty sure that Apple and Samsung will feel a drop in sales while struggling companies like LG and Sony will get yet another competitor to be very, very concerned about.