Huawei Mate 20 Pro now available on eBay from top-rated US seller at reasonable price
11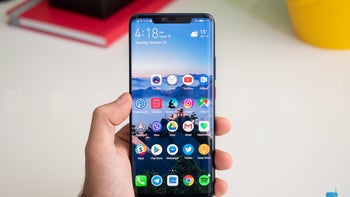 Huawei is undoubtedly the greatest tech-involved collateral victim of an ugly
trade war between China and the US
that's showing no de-escalation signs, having been effectively banned by the government from selling last year's
Mate 10 Pro smartphone through AT&T
and
Verizon
.
There was obviously no point in trying to officially bring the hot new
Mate 20 Pro
flagship stateside, but
as confirmed a little while ago
, "international variants" have arrived at "some US online retail sites."
Specifically, one variant is available on
one website from multiple sellers
. Never MSRP is not only the highest-rated retailer already shipping the factory unlocked
Huawei Mate 20 Pro in the US
, but also perhaps the best-known and most trusted eBay seller of popular phones in international variants at unbeatable prices.

If there's something to complain about, it's that Never MSRP has this groundbreaking phone available in a single color option at the time of writing. On the bright side, $899.99 actually feels like a fair price to ask for a black Mate 20 Pro at this point in time.

While the unlocked 128GB model is naturally sold without a valid US warranty, its long list of supported LTE bands seems to include everything you need for smooth sailing and blazing fast connectivity on AT&T and T-Mobile. No CDMA technology for Verizon or Sprint activation, though.
In terms of specs and features, Huawei has pretty much thrown everything at the wall, sticking an impressive number of
cutting-edge technologies
. The in-display fingerprint scanner and 3D facial recognition method may not be perfect, but everything from the sharp screen to the massive battery to the three rear-facing cameras is astounding. Truly
the best a phone can offer today
.