Best 4th of July sales 2023: save big on Samsung, OnePlus, and more now
4
We may earn a commission if you make a purchase from the links on this page.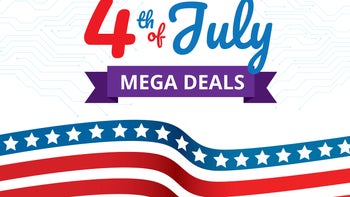 4th of July is already here - Happy Independence Day, America! Alongside the celebrations of the birth of American independence, you get great opportunities to get that Samsung Galaxy S22 Ultra you've been dreaming about, and at a great price, too. Deals are all over the virtual space, as some merchants like Best Buy have already launched their 4th of July sales. We say there's no reason to miss out on those and many other offers - especially as they will expire soon (you might want to hurry!) As always, we're here to help and guide you through the tech jungle to the best 4th of July sales out there. Here, we have the deals that are available right now. But first, let's check out the top 3 deals this 4th of July.
Keep in mind that
Amazon Prime Day 2023
is coming July 11 and 12: more awesome deals await us this summer!
Who has the best 4th of July sales?
You can find a 4th of July sale on almost every major online shop like Amazon, Best Buy, Walmart, and many more. Who has the best 4th of July sale, though? As it might be challenging to decide, we're here to help you out, showing you all the best tech deals.
Celebrate Independence Day with amazing discounts on the hottest phones at Amazon and Best Buy! You won't want to miss out on any of these unbeatable deals. Whether you're looking for the latest flagship models like the
Samsung Galaxy Z Fold 4
or more budget-friendly options, there's something for everyone. Upgrade your tech game with discounted prices on top brands like Samsung, Motorola, and Google. Combine style and functionality by purchasing the Samsung - Galaxy S23 + Galaxy Watch 4 package. Capture incredible photos, enjoy vibrant displays, and experience lightning-fast performance with these fantastic phone deals. Don't wait too long, too, because these offers won't last forever. Grab your favorite phone at a discounted price and get ready to celebrate the 4th of July in style! Here are the top deals on smartphones available right now:
Best 4th of July sales: Tablets
There's no shortage of amazing offers on tablets this 4th of July, too. So, even if you're in the market for a solid tablet, we might have something to offer you. For example, Best Buy's deal on the Microsoft Surface Pro 7+ might be just what you're looking for if you're seeking a premium laptop replacement. Get this and many other options from some of the top merchants, for, even though Best Buy has already launched its 4th of July sale, it isn't the only store selling great tablets at even better prices right now!


Best 4th of July sales: Headphones and earbuds
Amazon has the 4th of July sales going in the earbuds and headphones category, too. Take advantage of the following deals, and you'll be able to save on the Galaxy Buds 2, the 2nd Gen Apple AirPods Pro, and many other products. Depending on your budget and requirements, you can grab some of the industry-leading earbuds or the more affordable products that still deserve your attention at tempting prices. Make the Independence Day weekend more immersive, and save big in the process! Let's now browse the best deals on earbuds and headphones from Amazon and other merchants this holiday:
Best 4th of July sales: Smartwatches
No 4th of July shopping spree is complete without a solid addition to your tech items like smartwatches. After all, what could be better than having the chance to wear your smartphone on your wrist? Allow notifications, make payments on the go more effortlessly than ever, and remain informed about what's happening in your body. To do it, all you need is a good smartwatch. Of course, we're here to guide you through the virtual world of deals and make it easier for you the ideal smartwatch for your needs.
Best 4th of July sales: VR headsets
In the market for the perfect VR headset this holiday? Say no more! We're here to help you step up your gaming experience a notch, and save big in the process, of course! We found several great deals on top VR headsets. For example, we discovered a fantastic package offer at Best Buy for the Meta Quest 2 plus the Quest Link Cable. Make your 4th of July weekend a gamer's paradise by picking one of the following VR equipment from Amazon and Best Buy:
Best 4th of July sales: Accessories
No holiday is well spent if your battery can't keep up! Don't worry: we prepared several great offers on portable charging stations, chargers, and other products that ensure you get the most out of your smartphones wherever you are. And don't forget that you can now save big when buying wireless chargers like the Anker Foldable 3-in-1 Wireless Charging Station. Step up your power game a notch this 4th of July with these offers on chargers and more on Best Buy and other merchants:
Best 4th of July sales: Bluetooth speakers
Make the Independence Day weekend complete with some background music or blasting tunes while dancing with friends and family. To amp up the fun, grab a portable Bluetooth speaker and take it with you wherever you go. This holiday gives you a chance to get high-quality portable speakers at lower prices, such as the Sony - EXTRA BASS Compact Portable Bluetooth Speaker, which is now available for $10 less at Best Buy. Check out the best deals we've found on portable Bluetooth speakers for this 4th of July and make your celebrations even more enjoyable:
Recommended Stories