Xbox Kinect hacked to work with iOS devices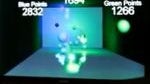 At the
Mobile World Congress 2011
, Microsoft's Steve Ballmer was thrilled to demonstrate the integration of Windows Phone 7 and
Xbox Kinect
. Using your Windows Phone 7 device, you can have a secondary interface beyond the Kinect sensor and your television. No, it's not the most practical interface, but it's a fun concept.
Now, Supertouch and Frog Design have stolen a bit of the spotlight, by enabling iOS devices to be used in a similar capacity. Supertouch enabled iOS devices to control the balls in Xbox Kinect Dodgeball, just like the Windows Phone 7. Wielding your iPhone or iPad, you can control where the dodgeballs are hurled at your opponent.
Frog Design has also thrown their hat into the ring, adapting the Human Tetris game for iOS as well. One player strikes a pose to match an approaching cutout, while the other chooses the shapes on their iOS (or Windows Phone 7) device. So does this strike a blow at the growing appeal of Windows Phone 7? Probably not, but when companies compete, the consumer always wins.
source:
Engadget