X-Doria Apple iPhone 5S case collection hands-on
10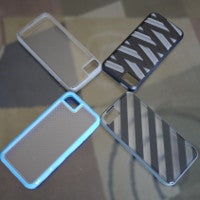 Now that the new iPhones have been officially unveiled, it's time to think about your future purchase. Even though we're still over a week away before the new models hit retail shelves, we're getting a first look at some of the new cases for the iPhone 5S from X-Doria's latest collection.
Apple might try to get consumers to pick up its new line of cases, which seem rather straightforward with their designs, but X-Doria's set of iPhone 5S cases definitely have an attractive
edge
to them. At the same time, though, they boast a substantial amount of protection due to their heavily cushioned surroundings – ensuring they'll be safely protected even from minor falls.
As it stands, these new cases range in prices from as low as $19.99, all the way up to $29.99, which all of course are still lower in price than Apple's very own homemade cases for the iPhone 5S. Best of all, they still fit the iPhone 5 too. Check out the new collection below.
source:
X-Doria