World's first in-car wireless phone charger by Denso is what powers the new Toyota Avalon's eBin tray
12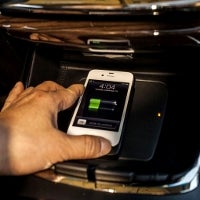 When
wireless charging
becomes the law of the land, Denso will be ready with an in-car solution for everybody. The company revealed its workings on a
Qi standard
compatible charger for vehicles, and the first batch went into this year's Toyota Avalon Limited model.
The charger is just a pad tray you throw your handset on while in the car, called the
eBin
, and it charges the phone while you are driving. Done in collaboration with Philips and Lite-On, the Qi wireless charger is currently produced in Denso's Vista, California facility,
"
As smartphones become more widely-used in vehicle connectivity, this new product provides a convenient charging solution that is needless of cords and connections
," commented Hiroyuki Wakabayashi, Executive Director responsible for DENSO's Information & Safety Systems Business Group.