What about your loyal customers who want to keep the Galaxy Note 7, Samsung?
86
Despite the fact that Samsung had to commence a
global Galaxy Note 7 recall
and is about to announce a second one, the South Korean company has much bigger problems.
If you've been following the
Galaxy Note 7 news
, then you already know how dangerous this product is, not necessarily because it tends to overheat and explode, but because it's totally unpredictable.
What makes the Note 7 dangerous is that it's totally unpredictable
Some Galaxy Note 7 owners reported that their phones started smoking even though they were powered down, while others claim their units simply burst into flames during their sleep. If you've been (or continue to be) a Note series fan and purchased the smartphone, don't think that just because your unit stays cold it will not blow up overnight at some point.
Obviously, Samsung plans to gather all the Galaxy Note 7 units that are still in the hands of customers and the main partners for this massive recall process are the carriers. In the United States,
most network operators announced they are now offering replacements and full refunds
to all those who purchased the Galaxy Note 7. Obviously, you must choose a smartphone from the carrier's portfolio, other than the Samsung Galaxy Note 7.
But what about those people who like the Galaxy Note 7 so much that they are willing to risk being injured by keeping the smartphone despite the fact that Samsung and all its partners are now urging everyone who bought the device to exchange it as soon as possible.
Yes, there are many consumers who don't want to exchange their Galaxy Note 7. Here are some of their opinions about Samsung's phablet:
I don't want a refund. I want a Note 7. Period. It's the best device for me. Nothing else comes close, there are no other phones in consideration here. I run a bigger risk getting creamed by a car walking though the parking lot to work. - raduque
I can't stand a non note phone, and getting a Note 5 feels literally pointless when we are going to the 8 rumors and crap. - BubblingMonkey
I don't want another phone. I want the note7. I'll wait for the next recall. I love this damn phone. - andrewevenstar
I love this phone so much and I also do want to go through the hassle of having to set up another damn phone. - CantSeeShit
I can give up the stylus. But show me another phone that has an AMOLED display fit into such a tiny frame with nearly non-existent bezels. Which would have to be water-resistant, with a microSD card and USB-C. I'd gladly go through as many revisions as needed. I'd switch to the iPhone before getting any other android device offered currently. - forg0t
For the most loyal fans, a forced software update might be the only solution
These are just a handful of loyal Note customers who want to continue to use the Galaxy Note 7 despite Samsung warnings. Even if the chance of being injured might seem small, the possibility is there and no one can deny it.
And Samsung will want to make sure that doesn't happen since at least two people have filed suits against the company because of the injuries caused by
exploding Galaxy Note 7 units
.
So, how is Samsung going to handle the situation? The company can't allow these faulty Galaxy Note 7 units to remain in the hands of customers, loyal or not. Well, an obvious course of action would be to force a software update that will make these devices unusable.

They could also pay customers to turn in their Galaxy Note 7 units, but for the most loyal fans, a software update might be the only solution. If you think Samsung should approach the situation differently, by all means share your thoughts with us.
Samsung Galaxy Note 7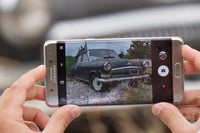 source: Reddit