Samsung issues a massive Note 7 recall, and an apology
99+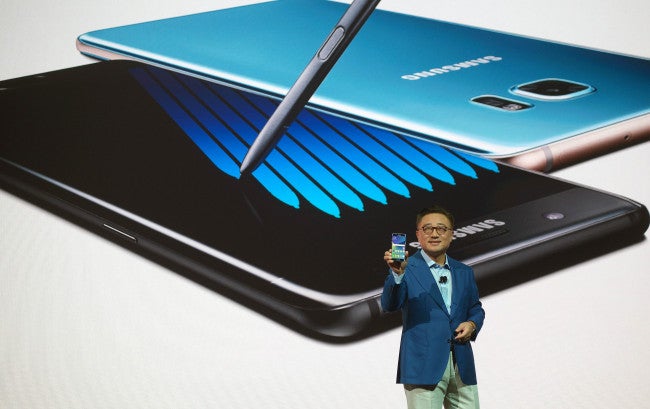 Samsung Mobile head Koh Dong-jin just did a press conference explaining the Note 7 shipment delays
UPDATE
:
In the coming weeks, Samsung is seemingly aiming to recall and potentially replace all 2.5 million units it has apparently shipped so far, whether sold to customers, or in carrier and third-party seller warehouses. In the coming days Samsung will detail the replacement plan for all the 10 countries where the Note 7 has been introduced so far. Verizon will waive the exchange fee if you want a replacement, Sprint and T-Mobile have suspended sales and will issue a "similar device" if you bring your Note 7 to their stores. Samsung estimates it will take about two weeks for the program to turn over all potentially affected units, and will work with individual stores on announcements about their own replacement process. The cost of the Note 7 exchange program? "It breaks my heart," said Samsung's DJ Koh.
Samsung's DJ Koh, the head of the mobile unit, got out in front of the crowds with pitchforks today to make an official announcement about some Note 7 units exhibiting
production faults
.
We kid, it was a prearranged press conference where the exec somewhat downplayed the drama, saying that only 24 on a million Note 7 units shipped so far have exhibited power management and other issues stemming from that: "
As of Sept. 1, a total of 35 claims were registered with Samsung's service centers at home and abroad. Only 24 units on a scale of 1 million were affected by the battery problem
."
Those who want will be able to "
voluntarily replace their current device with a new one over the coming weeks
," bringing their Note 7 units to be swapped at their carrier or third-party shops. Judging by the
Carphone Warehouse process
, the folks who got their preorders delayed for extra quality control checks, will be reimbursed in one way or another, too. "
By putting our top priority on customer safety, we've decided to halt sales (of Galaxy Note 7) and offer new replacement handsets to all customers
," added Koh.
[Statement] Samsung Will Replace Current Note7 with New One
Samsung is committed to producing the highest quality products and we take every incident report from our valued customers very seriously. In response to recently reported cases of the new Galaxy Note7, we conducted a thorough investigation and found a battery cell issue.

To date (as of September 1) there have been 35 cases that have been reported globally and we are currently conducting a thorough inspection with our suppliers to identify possible affected batteries in the market. However, because our customers' safety is an absolute priority at Samsung, we have stopped sales of the Galaxy Note7.

For customers who already have Galaxy Note7 devices, we will voluntarily replace their current device with a new one over the coming weeks.

We acknowledge the inconvenience this may cause in the market but this is to ensure that Samsung continues to deliver the highest quality products to our customers. We are working closely with our partners to ensure the replacement experience is as convenient and efficient as possible.
Recommended Stories