Verizon to start preloading Playphone's "Games Portal" on Android devices
16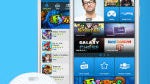 Verizon wants to fill a gap in the Android ecosystem and offer a gaming social network for the platform, and with that in mind, the carrier is planning to start
bloating
preloading Android devices with Playphone's "Games Portal", which is a combination app store and gaming social network. It's not totally confirmed, but it sounds like the plan is to start
bloating
preloading devices in Q2 of this year.
Playphone's "Game Portal" will be completely separate from the Google Play Store. Playphone claims this is a good idea because the store will offer direct carrier billing with Verizon. Of course, the Google Play Store offers the same thing, so we're not sure how it will benefit users to have a separate game store. Playphone is also saying that Verizon's "massive distribution network and marketing muscle" will be good for game developers. We can't argue that, but it still doesn't give a reason why users would want to split their money between this store and Google Play.
Still, Android does need a gaming social network similar to Apple's Game Center, and this may be the best option, because none of the current options like Scoreloop or Swarm only get visibility through the games that are connected. Verizon has big marketing muscles. And, the carrier loves to
bloat
add value to its devices.