Verizon officially announces the $49.99 on-contract Pantech Crux
3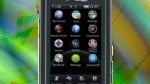 Continuing to branch out their brand name on Verizon's lineup, the Pantech Crux was officially announced by the number one wireless carrier in the country today.
Going for the easy to swallow price of $49.99 after a $50 mail-in-rebate with your signature on a 2-year contract, the Pantech Crux looks to be your healthy looking feature phone. In fact, it features a 3" touchscreen, 1GB of internal storage, music player with external key controls, HTML web browser, social networking widgets, and access to V Cast Music with Rhapsody.
There's no arguing that Pantech prides itself with their line of feature phones, which is evident on AT&T's lineup, but the Crux will continue their deepening relationship with the carrier with the most customers. If smartphones might be too complicated for your taste, you can always count on the Pantech Crux to be a suitable option that'll provide a simple and straightforward experience – without costing you much out of your pockets.
via
Mobileburn