Verizon doing the planet a solid by hosting a Recycling Rally in FL
2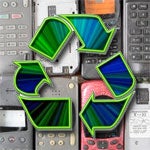 Most of us have boxes of old electronics – whether it's gadgets, cell phones, accessories, you name it. Sometimes they end up on eBay, sometimes forever stowed in a dusty box in some rarely visited corner of your home, but most often these items end up in the trash - then in the Earth – for a long, long time.
Verizon is continuing their commitment to the environment by hosting a Recycling Rally in Florida that will support its zero-landfill objective. The event will take place on January 26, 2012 from 7:30 a.m. to 2 p.m. at Verizon's facility in Temple Terrace. Best of all, it is free and open to the public.
Participants are encouraged to bring any and all unwanted electronics for recycling. Items can include computers, monitors, phones, and a variety of other household items. Verizon is asking that participants clear their own data and remove any batteries in the devices prior to dropping them off.
During the event, recyclers will be randomly selected to receive Energy/Water-Go Green Kits that include items to help make other areas of your life more energy efficient such as, reduced-flow showerheads, compact fluorescent light bulbs, and kitchen aerators.
So, come on Florida residents, January 26th is the time to get rid of that weird drawer of feature phones and accessories you've been holding on to. Also, as a reminder, you can always visit the
EPA's site for a ton of places to donate and recycle
your old phones, tablets, and other electronics.
source:
PRNewsWire