Deal: Get an unlocked Moto Z with Moto Care Protection for $499 (limited time offer)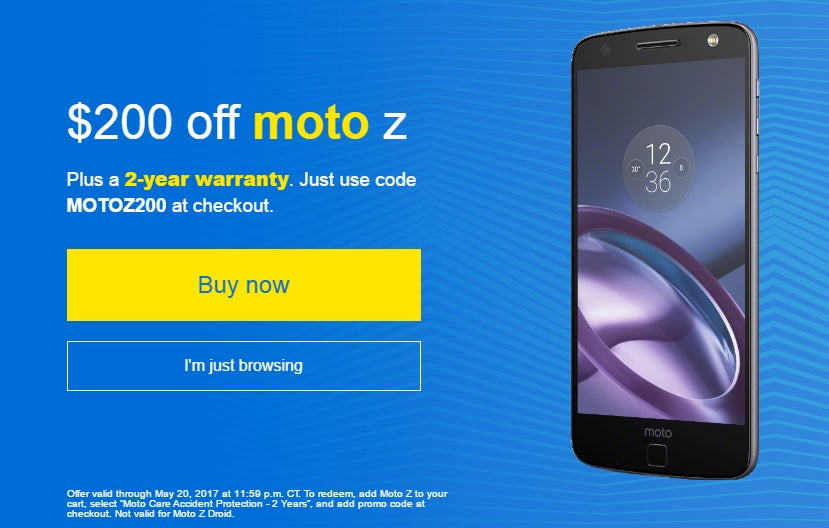 Need a high-end, unlocked smartphone that doesn't cost more than $500? Motorola thinks you may want to consider buying its super-thin
Moto Z
, as it's currently offering the handset for $499.99 via its official website. Unlike previous Moto Z deals, this new one includes free Moto Care Accident Protection for 2 years (normally $74.99).
The reduced price is not immediately visible when you want to purchase the Moto Z. To get the handset for just $499.99, you'll have to select "Moto Care Accident Protection - 2 Years" and use the promo code MOTOZ200 at check out.
This deal is available until tomorrow, May 20, at 11:59 p.m. CT (Central Time). This means you'll have about 28 hours to take advantage of it, starting from the moment we're publishing this article. Also of note is that the promotion only includes the unlocked Moto Z (compatible with AT&T and T-Mobile), so you can't buy Verizon's Moto Z Droid using the aforementioned code.
Although Motorola Mobility may be getting ready to launch a
Moto Z2
series, at $499, the original Moto Z remains an attractive smartphone - especially if you need a new handset
now
, not in a few months (or who knows when the Moto Z2 family will be released).
To purchase the Moto Z for $499.99, visit Motorola's website via the source link below.