U.S. Consumer Product Safety Commission working with Samsung on official recall of Galaxy Note 7
34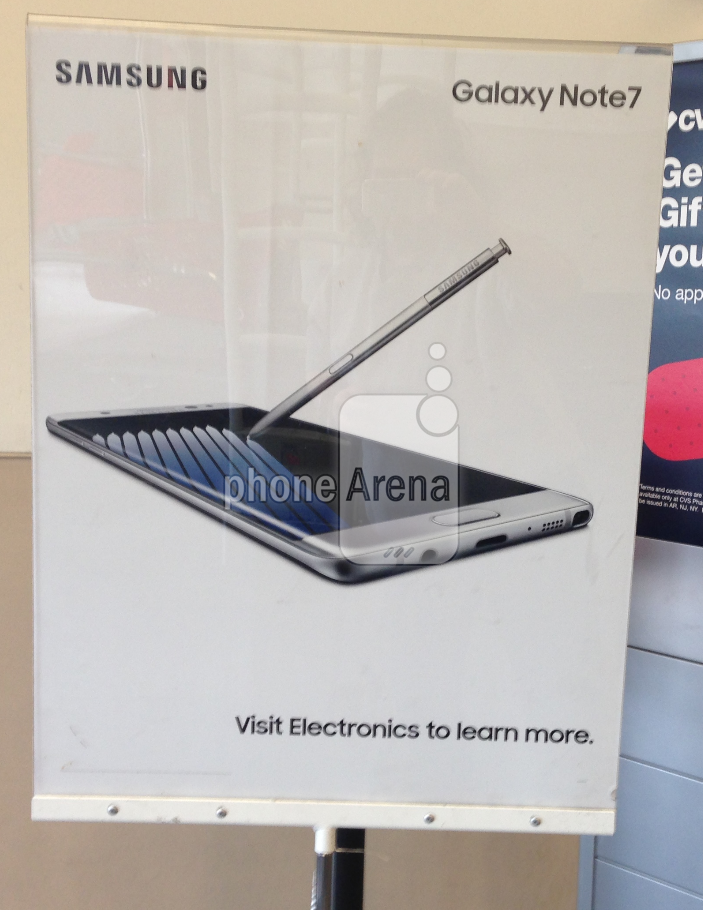 Target store in Pembroke Pines Florida still has a sign up promoting the Samsung Galaxy Note 7
According to a press statement made by the U.S. Consumer Product Safety Commission, Samsung and the CPSC are in talks that could lead to an official recall of the
Samsung Galaxy Note 7
. The latest version of Sammy's high-end phablet has exploded while charging a few times, and
Samsung has traced the problem to defective batteries inside the device
.
The Galaxy Note 7 was selling like hotcakes, and
the company's shares hit an all-time high
days after the unit was released. But then came a couple of reports in succession
about the Galaxy Note 7 exploding while charging
. And the complaints continue. Just yesterday, we told you about a man in Florida
whose Jeep was destroyed by a Galaxy Note 7
that was charging inside the car; just moments before, his wife, eight-year old daughter, and dog were inside the vehicle.
Samsung has halted sales of the device and is not shipping them
until replacements are ready to be delivered. The CPSC has concerns about whether offering a replacement is a good enough solution. Meanwhile, the agency is trying to get Samsung to officially recall the phone. By doing this, Samsung would have to file paperwork with some government agencies, and anyone caught selling the phone could be arrested, fined or both. Consumer advocacy group
Consumer Reports has already attacked Samsung for not officially recalling the Galaxy Note 7
.
Samsung has another problem with the
Samsung Galaxy S7 edge
. Recently,
the device exploded while charging overnight in a home
. Yesterday,
a lawsuit was filed that involves another Galaxy S7 edge unit
that caught on fire in a man's pocket. The victim received painful second and third degree burns and had skin graft surgery.
Samsung will start shipping replacement units on September 21st,
with Australia the first country to receive replacements
. Special stickers on the barcode featured on the box will be used to distinguish a replacement model from an original Galaxy Note 7 with a possibly defective battery. The CPSC recommends that consumers who are holding on to their Samsung Galaxy Note 7, power it off immediately and bring it back to their carrier to be exchanged for a different phone.
The agency has issued a statement that you can read below.
"Lithium-ion batteries pack a lot of power into a small package. When these batteries overheat and burst, the results can be serious. This is why the U.S Consumer Product Safety Commission (CPSC) is urging all consumers who own a Samsung Galaxy Note7 to power them down and stop charging or using the device.

This consumer warning is based on recent reports involving lithium-ion batteries in certain Note7 devices that have resulted in fires. These incidents have occurred while charging and during normal use, which has led us to call for consumers to power down their Note7s.

CPSC and Samsung are working cooperatively to formally announce an official recall of the devices, as soon as possible. CPSC is working quickly to determine whether a replacement Galaxy Note7 is an acceptable remedy for Samsung or their phone carriers to provide to consumers."-CPSC
source:
CPSC