Another Samsung Galaxy Note 7 purportedly explodes while charging
47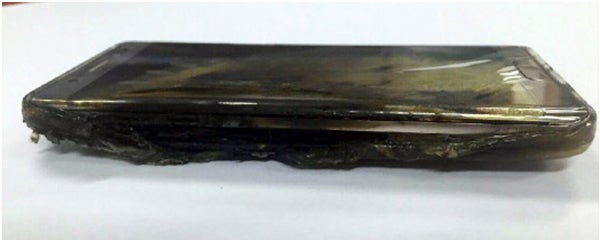 The new Galaxy Note 7
has garnered
mostly positive reviews
since its official unveiling. For features and sheer power, it ticks most of the boxes, and all within a package of undeniable beauty. As Samsung continues to promote its new flagship handset, however, a new and potentially alarming pattern seems to be forming. As you may recall, it was reported last week that a Galaxy Note 7
had exploded while on charge
. Here, just a few days later, it would appear that history has repeated itself.
Before we get overly carried away, one key consideration should be made. Where last week's incident was potentially attributable to a third-party microUSB-to-USB Type-C converter — i.e., not through the sole use of official Samsung products — unofficial equipment may also have been culpable once more.
The report from
BusinessKorea
quotes the purported Note 7 owner's friend as saying:
There was another explosion of the Galaxy Note 7. It was my friend's phone. A Samsung employee checked the site and he is currently in talks over the compensation with Samsung. You should use its original charger just in case and leave the phone far away from where you are while charging.
This statement does indicate that non-Samsung charging equipment may have caused yet another device to burst into flames. With that said, this simply does not look good for Samsung amid such a huge launch, particularly one
poised to break sales records
.
Shared on Korean social media portal Kakao, the original story has supposedly been deleted. For now, it looks like the device in question has been sent to Samsung for tests, in order to determine what has caused another device to catch fire.
Will these rather concerning incidents stop you from acquiring the new Samsung Galaxy Note 7? Let us know of your take in the comments below.