Samsung Galaxy S7 edge burns while charging overnight
99+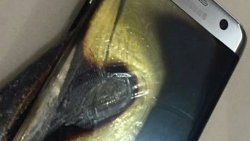 While a defective battery has forced Samsung to order the recall of
Samsung Galaxy Note 7
units
everywhere but China
(a different battery is employed there), a consumer who owns the
Samsung Galaxy S7 edge
has reported that his unit burnt while he was charging it. This gentleman claims to have been sleeping at the time of the incident, and reportedly used the handset's original charging equipment.
Do we think that this is related to what is going on with the Galaxy Note 7 recall? Absolutely not. The two phones use different batteries and besides, the Galaxy S7 edge has already been available in the marketplace for nearly six months without a large number of such incidents being reported. There have been 35 reports of a malfunctioning battery on Galaxy Note 7 units (according to Samsung) in just the first 18 days, which explains why the manufacturer is taking the phone off the market while changes are being made.
Sammy is doing the right thing here. Even if the chances are remote that your Galaxy Note 7 will explode, would you feel perfectly safe plugging in the unit overnight? What the manufacturer is fighting is the perceptions and fears of consumers. And that is why this one burnt Galaxy S7 edge carries more weight than it should. The owner of the phone has been in touch with Samsung, and the company is offering him the choice of receiving a new device or a refund.
If anything good has materialized from the Galaxy Note 7 recall, it does give the manufacturer a chance to fix the issue with the new S Pen. As we told you the other day, some S Pen units that came with the Galaxy Note 7
have defective clicking mechanisms
which prevent the user from clicking on the top of the stylus to remove them from their housing. If the clicking top of the new S Pen can't be deployed, the writing tool is stuck inside the phone.
Thanks for the tip!
source: Homs.Android (
via Facebook
)
Recommended Stories