Toshiba announces 13-megapixel camera sensor for smartphones and tablets, promises less digital noise
20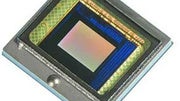 In addition to tablets of all shapes and sizes, Toshiba makes device components too, you know. Today, for example, the company announced the latest CMOS camera sensor that it has developed, and on paper, it seems like a promising piece of silicon.
Toshiba's new camera sensor offers 13 megapixels of resolution, but that's not what makes it special. It stands out with being made using 1.12 micron pixels, which results in a footprint of only 8.5 square millimeters. Now, when pixel size goes down, image quality deteriorates, but Toshiba says it has addressed the issue with integrated color noise reduction technology. Furthermore, the sensor is of the backside-illuminated kind, so in theory, it should perform well even in low-light conditions.
We'll have to wait, however, until we get to see this 13MP Toshiba CMOS sensor in action. Interested manufacturers will be able to request samples no sooner than December, 2012, so it likely won't show up inside a gadget before H2 of next year.