Three new Windows Mobile QWERTY slider phones coming to Verizon
1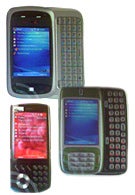 The guys at EngadgetMobile got information about the Windows Mobile smartphones Verizon is going to pick up in near future - and they are all hot!
Here are two from HTC and one from Samsung:
UTStarcom XV6800 or Verizon XV6800 is the successor of the Apache XV6700 and can be considered as the CDMA version of the TyTN (Cingular 8525) - it has the side-sliding QWERTY keyboard, EV-DO (supporting Rev A), 256 MB of internal memory and 96MB of RAM, 2-megapixel camera, Bluetooth v2, WiFi and microSD. We guess the Thumb Wheel is a trackball - similar to the one of the Pearl and the HTC Arthemis.
UTStarcom SMT5800 which will be available as the Verizon SMT5800 is another variation - it still has the side-sliding QWERTY, but also has a standard numeric keypad on its front, when closed. It has half the internal memory of the 6800 (128MB only) but the same 96MB of RAM, and keeps 2-megapixel camera, Bluetooth v2, microSD slot and EV-DO Revision A, but sadly drops the Wi-Fi.
The third cool PocketPC coming is from Samsung - this is the Samsung SCH-i760, successor of the i730, having similar design - standard slider with QWERTY keyboard. It will run the new Windows Mobile Crossbow for Pocket PC Phones instead of 5.0 but unfortunately has only 128MB of flash and 64MB of RAM. It also has EV-DO, Wireless network (WiFi), Bluetooth, microSD slot for memory and 1.3-megapixel camera.
Source: EngadgetMobile