The Sony Ericsson Kurara gets previewed
This article contains unofficial information.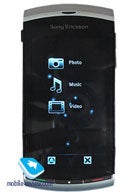 The
Sony Ericsson Kurara
has not been officially announced yet, but quite a lot of information about it has been leaked so far. Now we´ve got a detailed preview of the handset by Mobile-review. Its author reveals why he doesn´t think the model will be successful, something the previewer
mentioned
in its personal blog last week. The preview contains quite a few pictures that not only show us what the phone looks like, but confirm previous speculations that the Sony Ericsson Kurara is equipped with microUSB port and 3.5mm jack. The phone interface doesn´t sport any significant changes to the version running on the Sony Ericsson Satio and the quality of the snapshots taken with its 8-megapixel camera is by no means impressive. Of course, the most interesting aspect of the Sony Ericsson Kurara is its ability to capture HD videos in 720p and the preview comes with 213MB HD video clip that is, frankly, nothing to write home about.
We would like to emphasize that the preview is based on a prototype and the video quality can be significantly better with the final, retail units. The rumor has it the Sony Ericsson Kurara will hit the shelves in February, so there´s a lot of time before we can pass valid final judgement on the true merits of the handset.
source:
Mobile Review