The Samsung S3370, yet another affordable, touch-screen handset?
This article contains unofficial information.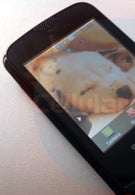 Team "Samsung" has been pretty quiet lately and we haven´t seen anything new leave their camp for quite some time now. On the other hand, the other major Korean manufacturer, LG, is falling over backwards to flood us with
various new models
. The company has already embarked on its quest to conquer the lucrative market of affordable, touch-screen handsets with the new members of the Cookie family – the
Cookie Plus
,
Cookie Fresh
and still unannounced Cookie Music. Something tells us, however, we are about to see Samsung retaliate soon and the recently leaked pictures of the brand new
Samsung S3370
are just a sign that their unruffled calm is affected ease.
The information about the device is still sketchy at best. It seems the handset will be truly compact and based on
TouchWiz 2.0
. The guys over at Cellular Mania claim the cell phone will come with 3G support and basic functionality, including Bluetooth, multimedia player and camera with unknown
pixel
count. The rumor has it contract-free units of the Samsung S3370 will roll out with a price tag of around $150 and appear in Europe first, but since the handset has already received FCC´s blessing, it will undoubtedly hit the shelves across the US as well.