The Galaxy S7 is the most used Samsung phone in the world according to a study
27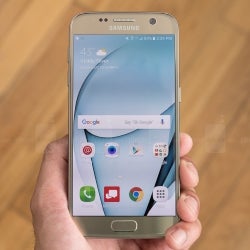 We always knew the
Galaxy S7
was a hit, but we didn't knew it was to such an extent. According to advertising agency ScientiaMobile's Mobile Overview Report (MOVR) for Q1 2017, the S7 generates more mobile browsing than any other Samsung device in the world. This means it is, literally, the most used Samsung smartphone right now.
Will the
Galaxy S8
end up with the same fate? It may take some time. Previously, it wasn't the Galaxy S6, but rather the Galaxy S5 that was the most used Samsung device in the world, and its hegemony was as recent as March this year.
This probably has something to do with Galaxy S5 upgraders moving to the S7 after their two year plans expired. Despite the lukewarm media reception and its sluggish sales, the
Galaxy S5
did sell in the millions, so the S7 naturally sees many would-be upgraders coming to it. Now sold at a discounted price following the S8's launch, it's unsurprisingly still growing in popularity.
ScientiaMobile is now turning its attention towards the newly launched Samsung Galaxy S8. According to their intel, the upgrade potential for the S8 (from Galaxy S5 and S6 owners) is significant if Samsung can retain these customers.
SM's complete MOVR report is available
here
.
ALSO READ