The Apple Watch was tested in gyms and climate-controlled environments simulating Alaska and Dubai
40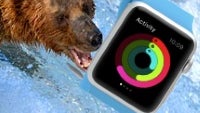 Born in a sweaty gym and field-tested in Alaska. What is it? It's the Apple Watch, dear! See, ABC's Good Morning America had the rare privilege of visiting the place where the Apple Watch - or at least a significant part of it - was born. And that place... was the gym. It was where Apple tested the watch's fitness tracking capabilities, strapping obscured prototypes on largely unsuspecting employees who did yoga, rowing, and other workout activities with it.
Being Apple, Apple went as far as to set up test chambers that recreate the conditions Apple Watch owners will face in different parts of the world, down to atmospheric conditions, altitude, temperature, humidity, and more variables. These control environment tests were followed by field testing in actual places like Alaska and Dubai - obviously, the Apple team isn't afraid of temperature extremes!
The Apple Watch can measure burned calories, heart rate, and health data in real time. The company's director of fitness and health technologies, Jay Blahnik, boasted that Apple has amassed "one of the world's largest pieces of data on fitness", and claimed that this is just the beginning. According to him, Apple's research in health could have a great impact on the medical and fitness industries. So if you see your doctor donning an Apple Watch, don't give him/her the stink-eye. That goes to you too, Android fans!
via
Digital Trends