Stories you shouldn't have missed this week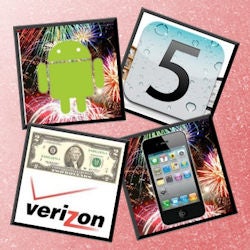 Are you excited about the big countdown? The laughter of your friends, the popping of champagne bottles, the warm glow of the fireworks… we bet you cannot wait for the celebration to kick off. But before you dedicate the last day of 2011 to partying, we invite you to take a look at the most interesting stories that we posted over the week.
We start with a big announcement that came from the jailbreaking community. Finally, an
untethered jailbreak for iOS 5.0.1
has been made reality, courtesy of iOS hacker
pod2g
. Sadly, all A5-powered hardware, namely the
iPhone 4S
and the
iPad 2
, is not supported, but their time is likely to come as well. Of course, before you free your iDevice from its shackles, make sure you back-up your data first. Tinkering with its software might have unintended consequences, you know.
Next in line is the drama around the
Android 4.0 Ice Cream Sandwich update
for the
Samsung Galaxy S
and
Galaxy Tab
. As you might already know, the manufacturer announced that an update will not be released, which resulted in a widespread outcry. Unfortunately, we are still not sure whether the two devices will be getting a proper update or not. Some claim that a "Value Pack" upgrade will be released instead of ICS, but we are still waiting on a final statement from Samsung on the matter.
The next bit of news concerns all of you who are holding on to a
GSM
handset. That includes you, T-Mobile and AT&T customers. It has been discovered that the GSM technology may have a serious security flaw, and that devices that use it may be hacked with little effort by an individual with the necessary skills. Still, there is hope, according to people in the know. All it takes for the security hole to be patched is for carriers to make sure their software is up to date.
In other news,
Argentineans waved the Apple iPhone and the BlackBerry goodbye
this week as sales of those smartphones were halted on the territory of the country. The reason? The poor state of the nation's economy forced the government to institute a ban on the sale of foreign-made smartphones. Some makers are still allowed to sell their products in Argentina as they have manufacturing plants within the country. Thankfully, the ban is said to be temporary, yet it is not quite sure for how long it will be in effect.
Of course, we didn't forget to bring you a good amount of
articles
for your reading enjoyment. One of them is our close inspection of Windows Phone and the reasons behind its poor market penetration in particular. Another great editorial that surely deserves your attention takes a look at the USPTO and the flaws that the patent system is plagued with. You might also be interested in our
"Highlights of 2011"
posts that look back at the events that shaped the landscape of the wireless industry. And to make your celebration of New Year's Day more enjoyable, we have compiled lists of both iPhone and Android applications that we find really suitable for the event.
Another step for
Sprint
in its transition to LTE was made this week. The carrier just recently announced that its first LTE tower cluster, located in Kankakee, Illinois, is now fully operational. Sadly, the Carrier's first LTE devices won't be out until the middle of 2012, but at least it is good to know that its Network Vision plan is still on track. Another achievement that Sprint can brag with is its 3G network upgrade, which should put an end to those sub-par internet speeds that iPhone 4S owners have been dealing with.
And last but not least, we bring you the news that Verizon has decided to give up on its $2 convenience fee. If you have not been keeping track on the matter, the fee was once planned to be in effect starting January 15 of 2012, and everyone who chose to pay their bill online or via telephone would have been subjected to it. Thankfully, the carrier reconsidered, possibly after the FCC decided that it is time for it to get involved in the case.
Now go have some fun and greet 2012 with a smile on your face! Team PhoneArena wishes you an unforgettable New Year's Eve!