Sprint partners with various vendors to decommission 9,600 iDEN towers before Q3 2012
3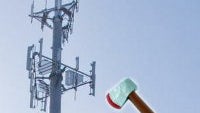 By now, we're all familiar with
Sprint's intentions to shutter its iDEN network
, as most recently, it was announced that
iDEN based phones wouldn't be sold in stores or online anymore
. Instead, the Now Network is relying on its
CDMA-based Direct Connect service
to offer its customers push-to-talk capabilities with select devices.
In order to meet that
June 30, 2013 date
of when Sprint intends to close out its entire iDEN network, we're hearing word now that a
total of 9.600 iDEN towers are going to be decommissioned
. In fact, Sprint announced today that they've made an
agreement
with Goodman Networks, Overland Contracting, Pyramid Network Services LLC, and WesTower Communications to decommission those iDEN towers for re-use or recycling.
As it currently stands, Sprint hopes to have to have those 9,600 iDEN sites to be out of service
before the end of the third quarter of 2012
. During that time, obviously, they'll be doing whatever they can to "
facilitate migration of iDEN customers to Sprint Direct Connect service
."
John Harrison, vice president-Network Supplier Performance Management, said, "
After a thorough RFP process, Sprint has selected the best suppliers to cost-effectively hit our milestones for site shutdown, enabling the company to exit from those locations at a minimum cost. In addition, we have taken extra care in selecting these suppliers to ensure our industry-leading green standards are maintained.
"
source:
Sprint